About Vegan SA
Vegan SA is here to make life more fun, enjoyable and less daunting in South Africa for both existing and potential new vegans alike. We can help and encourage people take the leap into veganism, thus helping improve the lives of all animals.
The concept for the VeganSA.com website is for it to: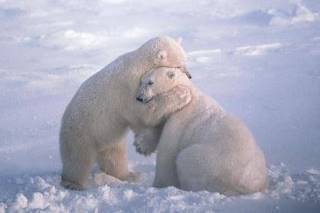 Be a dynamic guide for existing vegans, to make their lives easier when booking restaurants and holidays, when out shopping, or cooking at home. It will provide much-needed information nationwide on where to dine, sleep, and shop for food, drinks and other products.
Act as driver to inspire and motivate potential new vegans to take up the cause. The greater the number of vegans in South Africa, the louder our voices will be heard, and the more animals we can help.
Act as a tool to leverage positive change amongst non-vegan establishments, providing them with compelling reasons and motivations to change their policies and join the vegan cause.
Provide much needed publicity and media exposure for veganism.
Offer vegan recipe listings which will spice up your life and enhance creativity in the kitchen, inspiring variety and delicious choices for vegan dining.
Raise money to promote veganism. All our profits are donated to vegan charities and animal rights causes, mostly within South Africa.
This information does not exist elsewhere in SA, and it's crucial that we change this to shift the vegan movement into the public mainstream. Vegans want and deserve to live fulfilling lives (when it comes to eating) in SA. There's really no good reason why vegans should get such a raw deal when it comes to choices in South Africa.
Business managers and owners just tend to be ignorant of, or apathetic to, vegan needs. We want to change all that by providing vegans with a useful reference point when they're choosing places to go. We keep our guides practical to SA by listing vegan-friendly, not just vegan-only, establishments.
The nature of our website is such that it will only ever be as useful as the listings contained therein. Therefore we invite all South African vegans out there to join us and get involved to make this project a success. Get involved, follow the latest news on our Vegan SA Blog, or join our VeganSA Facebook page

.
The Vegan SA Team
General Manager: Sheldon Hey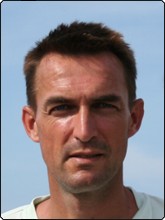 The inspiration behind the Vegan SA concept, Sheldon is responsible for the website marketing, development and maintenance, besides writing some of the site's content.
Sheldon has been vegetarian since around 1990, but only officially switched to being vegan in early 2006. He stopped eating meat as a protest against animal cruelty, and finally took the plunge to veganism once he could no longer justify to himself the consumption of dairy.
Actions speak louder than words for Sheldon, who advocates that anyone who truly cares about animals must get active and do something to help their cause. "Often people say that they care but this is usually accompanied by a long list of excuses that there is always something more important to do. I'm afraid that achieves nothing".
Sheldon is also General Manager of Dive The World

, a dive travel agency where he can satisfy his interest in travel and marine conservation. He has written many articles on this subject, including an Idiot's Guide to Building an Artificial Reef

. Sheldon enjoys diving, hiking, visiting national parks and rugby. His favourite foods are Thai, Indian and Middle Eastern.
Recipes Manager: Misha Dhupelia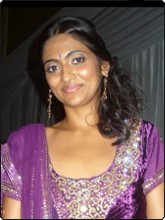 Misha was born and raised vegetarian and lived as such for close onto 29 years. Growing up in an Indian family in Durban meant she typically ate differently to friends or family but her grandmother was also well versed in the kitchen and as kids they were spoilt with an assortment of vegetarian treats!
The switch to veganism at the end of 2009 was inspired by a great friend who had just turned vegetarian and threw a barrage of questions her way about this lifestyle choice. Her prompted brain thus went into research mode and the vegan lifestyle made the most logical choice as the next step in compassionate living.
By day she carries the title of Sales Manager at 5FM-biasedly, the country's best radio station. ;-) And by night she moonlight as a wannabe vegan chef for my housemates.
Apart from cooking, she has 2 great other loves in her life - 2 English bulldogs, Nunu and Nina. She's also been avidly against vivisection, ever since delivering a talk on it as a school project when she was 15.
Foodstuffs Manager - Elizabeth Smit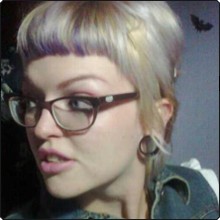 Elizabeth made the decision to go vegetarian after taking Animal Studies and Ecocriticism as an elective for English Studies in her second year. After writing an essay on animal abuse in entertainment, she knew that she could no longer ignore the fear and suffering that animals endure and that eating them felt hypocritical. Her interest in animal rights only grew from there and, together with her belief in equality and chronic sinus from lactose intolerance, she decided to go vegan for her health and the creatures of the planet.
She says helping animals and creating awareness always finds a way into everything that she does and it sometimes annoys her family but she wouldn't have it any other way. She is an avid thriftier of second hand clothes, jewellery and ceramics. Her dream is to run away and live with a team of wild horses, a pretty girl and a dog.
Regional Manager - Cape Town North: Samantha Jooste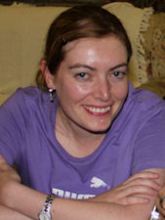 Sam has always loved animals; at the age of 19, she went vegetarian for that very reason. 10 years later in 2012, she became vegan after being made aware of the exploitation and cruelty in the egg and dairy industries. She is relatively new on the vegan scene, but there's no turning back for her:
"My eyes have been opened and I have finally 'made the connection'. Veganism has made me look at the world and society in a completely different way. I don't just blindly follow anymore. I walk my own path guided by my conscience, morals and ethics. I have a new found passion for animal rights and activism. I believe that veganism should be embraced for the sake of our own health, our planet's future and for the billions of animals who are killed mercilessly for the sake of taste".
Samantha is an architectural technologist and photographer, married to a rugby player and enthusiast. She loves art, poetry and jazz. Her favourite food is pizza and she has recently developed a chilli addiction! She enjoys playing table tennis (a sport for the body) and poker (a sport for the mind).
Regional Manager - Durban: Silungile Sibiya Buthelezi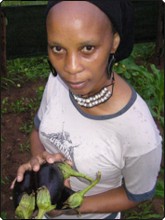 Slu was introduced to vegetarian living through the Rastafarian way of life which calls for every member to live off the land in "oneness with nature", by doing no harm to the planet, its habitants; people, plants and animals alike. Before this she didn't even know there were people who were vegan or vegetarian. She became vegetarian in 1996 and only took to being a vegan a year ago because her husband is also a strict vegan.
Silungile didn't know much about the impact animal production has on the environment nor the cruelty animals suffer in slaughter houses before the switch to being vegetarian but always felt it was wrong to put food on the table by taking away a life of an animal or by the spilling of blood.
She is passionate about sustainable community building and development. She says that she lives below middle class yet giving back to the less fortunate gives her enormous fulfillment. Slu and her husband bought land in a rural area where they started building their home and moved out of the suburbs. During the 6 months that they've moved they have harvested an unbelievable amount of organic vegetables and herbs. They have also planted 'healing' plants to use to stay healthy and for treating common ailments.
Silungile believes in alternative medicine and in using alternative safe energy. Her wish is to have a vegan/vegetarian eco-villa for nature lovers running by the end of 2011. She appreciates handmade stuff, arts & culture, and loves entertaining guests, organizing and hosting music events which she often ends up filming and photographing. She is a human, animal and environmental rights activist and lives her Life with "Thanks Giving".
Regional Manager - Johannesburg West: Lesleigh Harnwell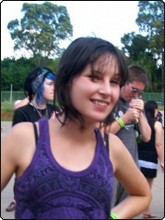 Lesleigh is responsible for the vegan listings in the Jo'burg area, so if you own a food outlet in the area you better be nice to her! She also contributed much to the site content, including the encyclopedic and beautifully written about veganism section.
She has been vegetarian since 2002 and vegan since 2007, when she could no longer block out the cries of the mother cows. She is an animal rights advocate who believes in living naturally and without cruelty.
Lesleigh works as a production manager for a conference accessory company. She spends most of her time doting on her beloved dogs, taking them for walks, writing and painting. She loves the outdoors and a good stomp. Her favourite foods are curries, anything with potatoes, and tofu ice cream.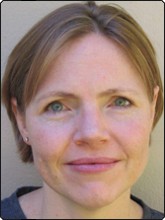 Regional Manager - Johannesburg: Liezl Thomas
Liezl has been vegetarian since 2006 and vegan since 2009 (it took a while for her to be brave enough to give up cheese ... but after really knowing the facts, it was much easier to make the decision). She now wishes she had been exposed to other vegetarians/vegans earlier in her life as she was sadly just not aware of the cruelty that she was contributing to.
She is a systems analyst/developer in the financial sector which takes her on travels around Africa. Apart from cooking and baking, she jogs daily with her 2 dogs, enjoys gardening, loves reading, and tries to learn as much as she can about nutrition.
Regional Manager - KwaZulu Natal: Marjorie Marino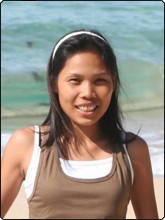 Marjorie lives in KwaZulu Natal for part of the year and has been vegetarian since around 2007, but only officially switched to being vegan early in 2009. She has already contributed quite a lot of recipes to our directory as cooking is one of her passions.
She has respect for environmental concerns but since watching videos from others organisations and talking to some vegan friends, she's now more aware of animal feelings and rights. She originally stopped eating meat when she was stunned one time by the haunting and terrified screams of a pig that was being slaughtered nearby. This snapped her out of her apathy and mobilised her lifestyle change from that moment on.
On a brighter note, Marjorie enjoys cookery, travel and adventure - in all forms of her life. Her favourite foods are Asian, especially Thai, Indian and Filipino.
Regional Manager - Limpopo: Tachiriyah Baht Yisrael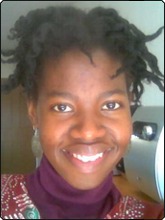 Tachiriyah Baht Yisrael is the Regional Manager for Limpopo, which is a challenge she is very much looking forward to (transforming Limpopo into a vegan friendly province).
Tachiriyah has been vegan since 2005 and is part of a worldwide community of African Hebrew Israelites who hold fast to the belief that a vegan diet is a diet that was crafted by the Creator to promote and sustain everlasting life. A vegan diet is the only diet that approaches and recognises men as co-creators of the universe and also as holistic entities: body, mind, spirit and soul.
When she is not coming up with new product ideas for vegans, Tachiriyah spends her time giving restaurant managers new and creative ways to cater for the vegan niche market. After six years in the sales and marketing environment, Tachiriyah traded sales and budgets for being a trainer and moderator for New Venture Creation, and loves to plant herbs, cook, read and eat, eat and eat some more. Her favourites hang out spots are Exclusive Books, Fruits and Roots and the green outdoors.
Regional Manager - North West: Lizané Badenhorst
Lizané grew up in a normal meat-eating Afrikaans family and, ever since she could remember, eating meat bothered her. Becoming a vegan all started while creating quotes for a golf day. The impact that the quotes and the images of pain, heartbreak and helplessness had on her, are everlasting and she hasn't looked back since!
She has been actively involved on the Potchefstroom SPCA Committee which has been the biggest eye opener into the world of animal cruelty, neglect and despair. She always clung to the saying, "Sometimes a man (or woman) are more humanely related to an animal than to any human being".
Lizané is relatively new to veganism but is extremely focused on educating the public. She's been re-greening her home as far as possible and has begun spreading the word about veganism, going cruelty-free and adapting to a greener lifestyle.
Lizané studied BA (Fine Arts) and since then has been a personal assistant. She lives in Potchefstroom where her young daughter, Milan, and her dogs, keep her and her husband very busy and constantly entertained. She loves Indian food, Italian, French and Mediterranean dishes ... and of course: chocolate cake and brownies!
Regional Manager - Overberg: Antoinette Maake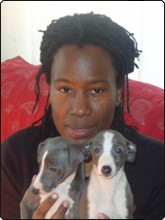 Antoinette has been a vegetarian since the age of 4 after a meat allergy that affected her and her brother. The decision to become a 'strict' vegan was made after reading Colin T. Campbell's 'The China Study' and watching the documentary 'Meet Your Meat' in mid-2007. She says she could no longer justify using any animal products of any kind in her diet. The decision was also assisted by increased awareness of the impact we have made as human beings on our planet.
Antoinette thinks that veganism is a beautiful expression of "Right Living". Her interest and participation in the healing therapies Reiki and Yoga, her personal involvement with dogs and horses (she breeds Arabian horses and Italian greyhounds) has fine-tuned her commitment to this way of life.
She works as a Quality Assurance Manager for a manufacturing company. She has a passion for the visual arts, an eclectic taste in music and is an avid gardener. Antoinette loves cooking when she has the time. Her favourite foods are mushrooms, tempeh, brown rice ... and she's a fruit addict!
Regional Manager - Port Elizabeth: Gisela Kaiser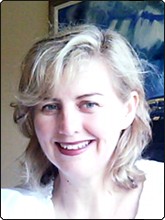 Gisela is a late convert to green living - in 2008, while investigating a greener type of living and working, she came across information on the devastating impact of the meat industry on the environment. Being a closet vegetarian for compassionate reasons for much of her life, this inspired her to become vegetarian overnight. She is still in transition to becoming fully vegan, and hopes that participation in Vegan SA will provide the final impetus to cut out all animal products.
"It really is a no-brainer, eating meat is clearly bad for the animals eaten, bad for the eater's health, and bad for the environment, so why do it? The way the world works has made it strangely difficult to live in any natural way, and even being vegetarian is seen as being weird. How weird is it really not to kill animals, and show compassion to our fellow earthlings? ..."
Gisela is an engineer, currently engaged in the corporate world. She is an advocate of reducing poverty and hunger through a holistic integrated approach which considers the planet and people and not just profit. She would like to spread the word and make it easier for everyone to make good choices. "Eventually it should be as easy to buy quality nutritious food as it is to pop into the vile fast-food joints that litter the landscape, and is hopeful that Port Elizabeth will rise to the challenge!"
Her favourite food is Thai and Indian, or anything with a serious bite.
Regional Manager - Pretoria: Antonia Dlagnekova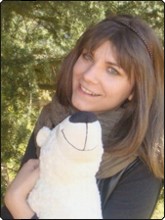 Antonia became a vegetarian when she was 14 after she began to question some of the taken-for-granted assumptions regarding farming and the consumption of meat. As she grew increasingly aware of the common practices of factory farming as well as the wide variety of alternatives, she gradually turned vegan.
Antonia believes that it is simply not necessary to consume animal products if one is fortunate enough to have the means to embrace a vegan lifestyle. "This may however seem as an overwhelming task, due to veganism being relatively new (at least in SA) and the perceived lack of support and resources". It is for this reason that she decided to join Vegan SA; in hopes of assisting in making it easier for those who are interested to partake in this exciting movement.
Antonia is currently a master's student in clinical psychology. Some of the things she enjoys include Thai food, playing with her cat and 2 rats (not at the same time ;), playing piano and attending picnics.
Regional Manager - Stillbay: Menita Havelaar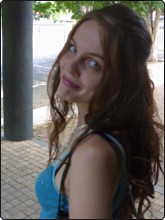 Menita firstly decided to become a vegetarian after she learnt how bad meat is for one's body, all the health issues that a meat based diet causes and all the hormones that it contains. She also became aware of all the chemicals in food and just how bad processed food is for one's body. She decided to become a conscious eater and to be aware of what she puts into her body. Upon further research she discovered what the impact of eating animals had on the environment and the cruelty involved towards animals. She was shocked, ashamed and stunned at how unconscious she was towards exactly where her food came from and decided become a vegan.
She feels as if her mind has woken up and she truly feels more awake and aware of her environment and the impact that she has on the world around her. She has always been an animal lover and did not know how she could go on calling herself that while continuing to eat meat, dairy, eggs or purchase any kind of product that came from an animal being slaughtered or tested upon.
She is a freelance website and graphic designer www.webminnitsdesigns.com

and currently also work for African Truffles. Her interests are designing, permaculture, self sustainability and the cultivation of exotic mushrooms and truffles.
She is the proud mother of a beautiful daughter and their 3 Jack Russells. They spend most of their time on the beach, in the ocean, canoeing, chilling out by the river, reading a good book or listening to music.
Regional Manager - Tzaneen: Josie Du Toit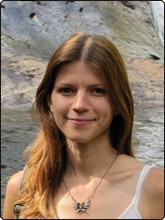 Josie is originally from UK but has lived in South Africa since 2005. She was raised vegetarian and has lived to promote animal welfare since a young age. Josie has been vegan since April 2011 after watching videos and becoming aware of the fact that a vegetarian diet still involves cruelty regarding the dairy, egg and cheese industry.
Josie also manages the Vervet Monkey Foundation

in Tzaneen with her husband, caring for and rehabilitating orphaned, abused ex-lab or ex-pet vervet monkeys. The Foundation is in the process of making a transition to becoming vegan since it makes sense to prevent habitat loss and protect the environment for the wildlife that we strive to protect.
Josie started the VMF Veggie / Vegan Challenge idea whereby people commit to go veggie or vegan for 1 month, watch a suggested educational video and get sponsored for doing so. The initiative had such a big impact in 2011 that it will continue internationally each year.
Having worked in veterinary nutrition for more than 4 years, Josie has a strong interest in nutrition and disease, she has also experienced personal health benefits by going vegan. After battling with fibromyalgia for many years, she was able to stop taking prescription medication.
Image Supplier - Johnny Greig
Many of the images that you see on this website have been kindly donated by Johnny Greig, a professional freelance photographer, living and working out of London.
Johnny specialises in still life and portrait work for advertising, editorial and corporate clients. More of his work can be on: www.JohnnyGreig.com.
---
Testimonials:
"I just wanted to let you know the amazing work that you do with zero funding. I guess the plight of animals and the environment is not up there on the agenda and budget of the government. I recently got introduced to one of your members by accident. She organised me a dinner party so I can introduce my family and my friends to my new vegan lifestyle. Tachiriyah is a gift to veganism!
I was amazed that being vegan can be so exciting to the palate. I'm currently on a raw diet as part of my detoxing regime to get rid of the meat that has been suffocating my intestines for decades. Needless to say I don't feel I'm loosing out at all; the raw food is delicious and as days pass being on this detox, my senses are returning and heightening my enjoyment for life! So thank you! Keep up the good work! " - Stacey Baker, United States of America