Advertise with Vegan SA
There are 2 types of image-based advert you can choose from to advertise your business on our website. This page provides an overview of the advert types and the range of prices.
Ads are static, visible on the site 24 hours per day, and includes a link to your website, so we place them in a fixed position on a chosen page(s). Prices quoted are for 1 year. Simply select the page(s) you want your ad(s) to appear on.
Advert positions on our website pages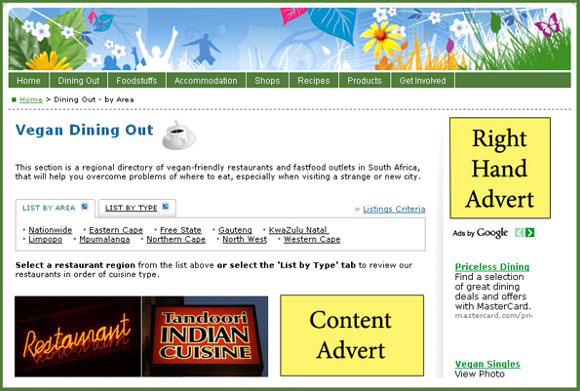 Advertising costs
Type
Specifics
Cost per year
Content advert
(max. of 2 allowed per page)
Location: main content area
Max. size: 240 x 160 pixels
Home page R1,000
Other page R400
Right hand advert
(max. of 3 allowed per page)
Location: right hand margin
Max. size: 160 x 240 pixels
Home page R800
Directory page R500
Other page R300
** Special Introductory Offer **

Take out a 5 advert package and receive a 25% discount off your total package price
Advert image file size should preferably be a maximum of ~100 KB. We can use jpg, gif, png.
Our website receives over 10,000 unique visitors per month; and much more when one includes our blog and Facebook visitors. Our blog has over 1,500 unique visitors per month, and our Facebook page has 5,600+ members.
Contact us now to discuss your specific advertising requirements.