Vegan Recipes
Congee (Rice Soup)
Congee is a Asian rice porridge. This savoury version below is called 'Arroz Caldo' in Philippino which literally translates to 'rice soup'. This is the perfect dish to warm you up on a cold morning or to have when you're trying to get over a cold since it is spiced with ginger, onion and garlic.

It's most often eaten as a breakfast but you can have it any time of day really.
Ingredients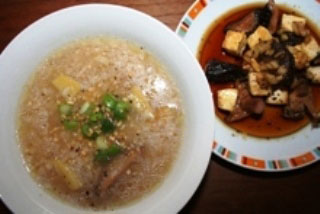 2 blocks firm tofu (optional)
½ cup soaked and sliced shitake mushrooms
1 cup plain rice
1 small finely chopped onion
4 chopped garlic cloves
1 sliced ginger root
6 cups water or vegetable broth
2 Tbsp soy sauce
Cooking oil
Salt and pepper to taste
1 Tbsp minced fried garlic
1 Tbsp chopped spring onion

Sauce:
1 finely chopped small onion
½ cup soy sauce
¼ cup vinegar or 2 limes
Pepper and sugar to taste
Cooking Instructions
Preheat the oven to 220°C.
Cut the block of tofu in to quarters. Brush each piece with soy sauce and vegetable oil on all sides and place on a baking sheet. Bake until light brown, about 15 minutes, and then turn over and cook for another 10 minutes. Remove from oven and set aside.
Fry the shitake mushrooms, season with soy sauce and pepper and then set aside.
In a large non-stick soup pot over a medium heat, sauté the garlic, onion, and ginger in oil. Stir for a minute then add soy sauce.
Add the rice and enough water and bring to boil. Continue cooking stirring occasionally until the rice is cooked (add hot water if necessary).
Add half of the fried shitake mushrooms and season with soy sauce and pepper according to taste.
For the sauce: Mix all the ingredients and serve together with the fried tofu and shitake mushrooms.
Garnish individual bowls with spring onions, fried garlic and squeeze a little lime or lemon juice on just before serving.
Serve the congee with the fried tofu, shitake mushrooms and the sauce.
Serves
2
people
Recipe supplied by

Marjorie Marino

,

Bulacan

, Philippines

Show Comments / Reviews
1 Comments / Reviews