Vegan Recipes
Asian Spiced Veggie Burger Curry
This recipe is a South African / Indian influenced curry that uses ingredients that are typically available in South African supermarkets/groceries.

It was a finalist entry from the 2013 Fry's Vegetarian Curry Cook-off Competition.
Ingredients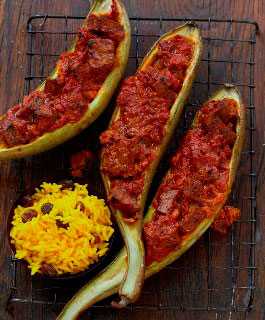 1 box meat free Asian spiced burgers, cubed
6 bitter gourd (karela)
30 ml oil
1 finely chopped onion
2 diced medium green chillies
2 cloves crushed garlic
1 piece crushed ginger
1 Tbsp masala
½ tsp each turmeric powder & jeera powder
1 can diced tomatoes
3 Tbsp tamarind juice
3 curry leaves
Cooking Instructions
Scrape out the bitter gourd. Slit the middle halfway and remove seeds. Rinse and leave to dry.
Heat the oil. Add the onions, green chillies, garlic and ginger. Fry for 2 minutes, then add the spices. Add the canned tomatoes and tamarind juice. Place the lid on the pot and cook for 10 minutes on low heat.
Add the cubed Asian spiced burgers, curry leaves and salt to taste. Garnish with coriander.
Fill the bitter gourd with curry and tie with a piece of cotton to prevent it from sagging downwards. Place on a greased oven tray and bake for 20-25 minutes at 180°C.
Garnish with coriander, mint and spring onions. Serve with savoury rice.
Serves
3
people
Recipe supplied by

Metisha Indurjith

,

Region not supplied

, South Africa

Show Comments / Reviews
No Comments / Reviews