Vegan Recipes
Baba Ganoush (Moutabal)
Baba Ghanoush is a popular Levantine and Egyptian dish of mashed eggplant (aubergine) mixed with various seasonings. It is known as Moutabal in Syria. Often the eggplant is cooked over an open flame before peeling so that the flesh is soft and has a smoky taste.

Serve Baba Ganoush with flat breads such as pita, as part of a meze, or as an accompaniment for salad.
Ingredients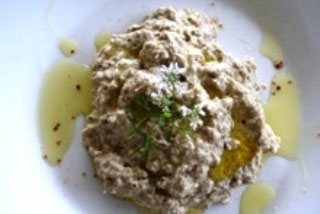 1 large eggplant
1 clove garlic
¼-½ cup lemon juice (to taste)
3 Tbsp tahini
1 tsp salt
3 tsp olive oil
Cooking Instructions
Pierce the top of the aubergine with a fork or prong. Hold it over an open flame and let it blacken all over. This should take about 10-15 minutes and the aubergine will be soft and look charred and flaky. Allow to cool for 20 minutes.
Blackening the aubergine over a flame is the best way to get the intense smoky flavour that the dish demands. Grilling the aubergines is also an option but it will be harder to get the strong flavour from an electric hob.
Cut open the eggplant and scoop out the pulp into a colander and allow to drain for 10 minutes. Removing the excess liquid improves the consistency and helps to reduce the bitter flavour.
Place the eggplant flesh in a medium-sized bowl. Add the remaining ingredients and mash together. Use a food processor if you prefer to do it that way than by hand. Pulse for about 2 minutes.
Add a little olive oil if it appears to be too dry.
Garnish the moutabal with coriander.
Serve with toasted pita bread and side vegetables.
Note: Baba ghanoush always has olive oil on top for garnish. However, you can spice things up a bit by adding crushed red pepper, a dash of cumin, parsley or coriander.
Serves
2
people
Recipe supplied by

Marjorie Marino

,

Bulacan

, Philippines

Show Comments / Reviews
No Comments / Reviews