Vegan Recipes
Black Forest Gateau
Black Forest Gateau is the English name for Schwarzwälder Kirschtorte, since it originated in Germany. Typically this dessert consists of several layers of chocolate cake with whipped cream and cherries layered between. The gateau is then completed by decorating it with more whipped cream, cherries and chocolate shavings.You can veganise this delicious dessert by using non-dairy whipping cream.

Black Forest Gateau is often made on special occassions such as birthdays and anniversaries.
Ingredients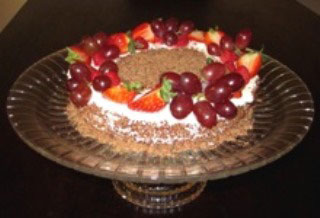 2 cups self-raising flour
2 tsp of baking powder
½ cup cocoa powder
1 cup brown sugar
3 bananas
½ cup vegetable oil
1 vanilla pod or 1 Tbsp of vanilla extract
1 cup vegan margarine, at room temperature
2 cups vegan cream
Black cherry jam
1 tin drained and pitted black cherries in syrup
4 Tbsp kirsch
Grated vegan dark chocolate
Your choice of cherries, strawberries, red grapes and raspberries for garnishing
Cooking Instructions
Preheat the oven to 180°C (350°F/Gas 4). Lightly grease and line the bottom of a cake tin.
Put the brown sugar into a large heatproof bowl, and place over a saucepan filled with simmering water; don't let the bowl touch the water. Whisk until the sugar is dissolved. Remove from the heat and whisk for another 5 minutes or until slightly cooled.
In a mixing bowl, mash the bananas, add in the sugar mixture and mix again. Add in the vegetable oil, mix it all together and whisk with an electric or hand whisk until smooth and fluffy.
Sift the flour, baking powder and cocoa together and fold into the mashed banana and sugar mixture using a large metal spoon or a spatula. Fold in the vanilla and vegan margarine and continue folding gently for a few minutes.
Transfer to the prepared cake tin and level the surface. Bake in the oven for 40 minutes, or until risen and just shrinking away a little from the sides. Turn the cake out on to a wire rack and cover with a clean cloth. Allow it to cool completely.
Carefully cut the cake into 2 layers. Sprinkle the Kirsch over each layer of cake and then spread black cherry jam over one of the cake layers.
Whip the vegan cream until it just holds its shape. Spread a thin layer of vegan cream over the cake layer with the black cherry jam, scatter with cherries and top with the final layer of cake. Spread a thin layer of non-dairy cream around the edges of the cake to cover the sides and top.
Use a potato peeler to grate the vegan dark chocolate to produce chocolate curls.
Using a spoon or a palette knife, press the grated chocolate onto the side of the cake. Scatter more grated chocolate on the top and decorate with cherries, strawberries, raspberries or red grapes as desired.
There you go, your Black Forest Gateau is now ready to enjoy.
Serves
6
people
Recipe supplied by

Marjorie Marino

,

Bulacan

, Philippines

Show Comments / Reviews
No Comments / Reviews