Vegan Recipes
Bubble and Squeak
Bubble and Squeak is a English dish traditionally made with the shallow-fried leftover vegetables from a roast dinner. The chopped vegetables (most often cabbages and sprouts) are fried in a pan together with mashed potatoes or crushed roast potatoes until the mixture is well-cooked and brown on the sides. The dish is named Bubble and Squeak because it makes bubbling and squeaking sounds during the cooking process.
Ingredients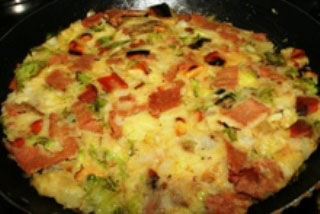 1 Tbsp vegan butter or vegan margarine
1 finely sliced onion
1 chopped clove garlic
Leftover slicedbrussels sprouts, cabbage (any other leftover vegetables can be added)
Leftover mashed potatoes or cold roast potatoes
Salt and pepper to taste
Cooking Instructions
Melt the vegan butter in a large and shalow non-stick pan, allow it to get hot, then add the onion and garlic; sauté until fragrant. Next, add the sliced sprouts or cabbage and let it colour slightly. Season with salt and pepper. Cook for 5-6 minutes more.
Fold in the mashed potatoes until well blended with the sprouts. Press mixture lightly onto the surface of the pan to form a large pancake; allow the mixture to colour. Cook for 5 minutes until the underside has browned lightly. Turn and brown on the second side for five minutes.
Garnish with fresh ground pepper.
Serve at dinner or cooked breakfast and pickles or brown sauce.
Serves
2
people
Recipe supplied by

Marjorie Marino

,

Bulacan

, Philippines

Show Comments / Reviews
No Comments / Reviews