Vegan Recipes
Buffalo Tofu Fries
These Buffalo Tofu Fries are vegan as well as fast and easy to make. The sauce is simple yet firey and spicy. Served with celery sticks and carrot and a dipping sauce (you could make a simple vegan ranch sauce), it's the perfect answer to that craving for an old favourite.
Ingredients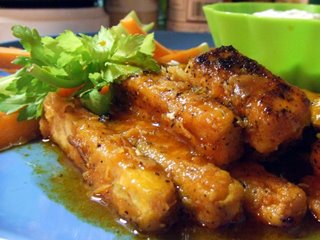 1 package of tofu, frozen, thawed, drained and pressed
1/3 cup hot sauce
4 Tbsp melted light vegan butter
1 Tbsp agave nectar
½ cup chickpea flour
Salt and pepper
2 tsp garlic powder
1 Tbsp onion powder
2 tsp dried parsley
2 Tbsp safflower oil
Cooking Instructions
Cut the tofu into shapes that resemble French fries.
In a large resealable storage bag or in a shallow bowl, add the flour and the spices. Add the tofu fries to the bag or bowl and toss them around gently until the tofu is covered in the seasoned flour.
Heat the oil in a large pan over medium-high heat. Shake off the excess flour from the tofu fries and cook them in batches in the pan until they are browned and crispy. This might take about 4-5 minutes per side. The 2nd batch will cook faster since the pan and the oil will be hotter.
While the tofu fries are cooking, combine the hot sauce, vegan butter and agave in a large bowl and whisk.
When the tofu fries are cooked, transfer them to the hot sauce mixture and toss to coat.
Serve with celery and carrot sticks and the dipping sauce of your choice. Try a vegan 'ranch' dressing by combining mayo, sour cream, dill, and pickled relish. Enjoy!
Serves
2
people
Recipe supplied by

Rhea Parsons

,

New York

, USA

Show Comments / Reviews
No Comments / Reviews