Vegan Recipes
Carrot Cake
This is a really super-moist cake. Not only is it delicious and an all time favourite but, as an added bonus, all of the ingredients are relatively easy to source.
Ingredients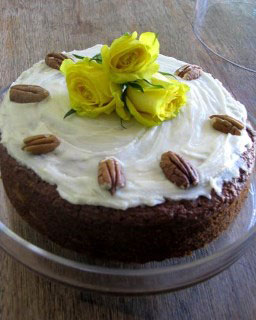 2¼ cups cake flour (or half cake flour, half whole wheat flour)
2 tsp baking soda
1 tsp baking powder
1 tsp pimento allspice
2 tsp cinnamon
1 tsp salt
1½ cups sugar (brown, white, treacle or a mixture)
3 eggs equivalent of egg replacer²
1 tsp vanilla essence
¾ cup vegetable oil
2 cups grated carrot
1 can crushed pineapple
1 cup shredded coconut
Nuts and raisins (optional)
Cooking Instructions
Preheat the oven to 180°C.
In a large bowl mix together the cake flour, baking soda, baking powder, pimento allspice, cinnamon and salt.
In another bowl mix together the sugar and egg replacer until smooth (this is easier to achieve using a handheld blender). Then add the vanilla essence and vegetable oil to this mixture.
Combine the flour mixture with the sugar mixture and add the last ingredients. Pour the batter into a greased or lined 9x9 cake tin (13x9 works fine too), smooth the batter if necessary and place in the oven.
Depending on your oven, the cake will bake for between about 1 hour and 1 hour 20 minutes. Check how the cake is doing in an hour (by inserting a toothpick into the middle). If you are sure it is baked turn the oven off and return the cake to the cooling oven for as long as it takes the cake to cool.
Once the cake is cool, frost with your favourite frosting; and it's ready to serve.
¹ The flour you use will determine the texture of the cake - for a less crumbly cake go for some whole wheat flour, but don't use only whole wheat flour, limit yourself to half and half)

² As an egg replacer you can use Ogran Egg Replacer, which can be found at most health stores. If you can't find that use ground flax seeds (linseeds). To make one 'flax seed egg' use 2 tablespoons of ground flax and 3 tablespoons of water mixed together.
Serves
12
people
Recipe supplied by

Gabriele Teale-James

,

Cape Town

, South Africa

Show Comments / Reviews
No Comments / Reviews