Vegan Recipes
Chiang Mai Mock Chicken Curry
Chiang Mai Curry is a northern curry usually made using pork. The curry is somewhat similar to that of yellow or massaman curry but of a thinner consistency; it also uses shredded ginger and does not use coconut milk. It is popular as a street dish eaten by Thai people in northern Thailand, though not frequently served in Thai restaurants abroad.
Ingredients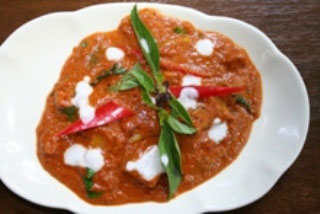 Mock chicken breast
2 Tbsp soya sauce
2 Tbsp brown sugar
1 tsp curry powder
4 Tbsp oil
3 Tbsp Chiang Mai curry paste (or red curry paste)
2 cups water
3 Tbsp peanuts, roasted until brown
½ cup ginger, peeled and cut into strips
3 Tbsp tamarind juice
Cooking Instructions
Put the faux chicken into a bowl along with the curry paste, soy sauce, sugar and curry powder and mix well. Marinate for 20 minutes or overnight.
Put the oil into a wok and fry the chicken and stir for 10 seconds; then add the water and bring to the boil.
Add the peanuts, ginger and tamarind juice and simmer for 5 minutes until the sauce is thick. It maybe necessary to add more water.
Garnish with roasted peanuts and strips of ginger.
Serve with steamed jasmine rice.
Serves
2
people
Recipe supplied by

Marjorie Marino

,

Bulacan

, Philippines

Show Comments / Reviews
1 Comments / Reviews