Vegan Recipes
Chickpea & Pistachio Fudge
I first tried these in Pakistan, many years ago, before I ever thought of becoming vegan. After doing research on it, this is a veganised version. Awesome and gluten free!
Ingredients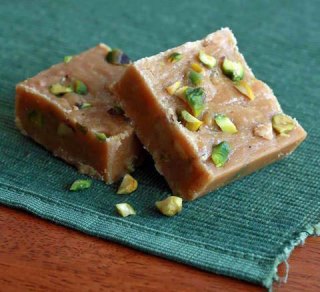 1 cup chickpea flour
½ cup melted organic coconut butter
¼ cup water
¾ cup granulated erythritol/ organic sugar
2 Tbsp chopped pistachio nuts, divided
Seeds of 2 green cardamom pods, ground
Cooking Instructions
Place the chickpea flour in a non-stick pan over a medium-high heat and stir constantly for 3-4 minutes until toasted. It will only very slightly darken in colour.
Whisk in the coconut butter. The mixture will be clumpy and on the dry side initially. Continue to stir and the butter will begin to separate from the flour and become more liquid-like. Continue to stir constantly as the mixture simmers and darkens in colour, about 3-4 minutes. Think of this process like making a roux for a gravy or sauce. Pour the mixture into a bowl and set aside.
dd the erythritol and water to the same pan. Bring to a simmer and stir frequently for about 5 minutes until the mixture is like a syrup. You'll know the syrup is ready if it passes the "2 thread" test: Take some of the mixture between your thumb and index fingers (blow it first to cool it a little!) and if 2 threads form when you pull your fingers apart, it's ready.
Return the flour mixture into the pan and stir it into the erythritol mixture. Return the mixture to a simmer for another 3-4 minutes.
Stir in the cardamom and pistachios.
Pour the mixture into a small freezer-safe container that can serve as a mould (like 15 x 15 cm or even a little smaller). Sprinkle the remaining pistachios over the fudge and gently press them down into the mixture.
Freeze the fudge for 1-2 hours then remove. Slice the fudge according to your size preference.
Serves
8
people
Recipe supplied by

Pieter Kotzé

,

Langebaan

, South Africa

Show Comments / Reviews
1 Comments / Reviews