Vegan Recipes
Chickpea and Potato Bobotie
Bobotie recipes can be intimidating by the amount of ingredients used and even more so in doing it the vegan way. But this one is short and sweet and the best way ever. The Bobotie mixture is never really cooked. It is a process of sweating all the ingredients together before adding it to a baking dish. There are too many ingredients that don't play well with a pot.
Ingredients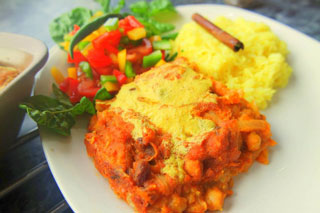 2 large potatoes (slice in 1 cm pieces and cook quickly in separate pot)
2 cans of drained chickpeas
2 large onions, sliced
2 Tbsp of canola oil
½ cup of tomato puree
2 Tbsp of red curry paste
1 Tbsp of green curry paste
2 tsp of turmeric
1 Tbsp of gravy powder stock (Ina Paarman brands are all vegan)
100g of dried apricots (soaked in 1½ cups of boiling water)
¼ cup of seedless raisins
2 thick slices of bread soaked in ½ cup of non-dairy milk

For the Sauce:
1 Tbsp of tapioca starch
2 Tbsp of nutritional yeast
1 dash of black Indian salt
¾ cup of non-dairy milk
Cooking Instructions
Fry the onions in oil. Blend the tomato puree, apricot and water mixture, pastes, turmeric and gravy stock powder together and add to the onion mixture. Remove from stove top.
Blend the bread mixture with 1 can of chickpeas and leave the second one intact. Add to the mixture in pot.
Add the potatoes and raisins. Place back on the stove top and incorporate the mixture on low heat for a minute or two.
Place the mixture in a casserole dish and blend the sauce ingredients together. Top with the sauce and poke holes so it can seep through. Bake for 30-40 minutes uncovered at 180°C.
Serves
4
people
Recipe supplied by

Pieter Kotzé

,

Langebaan

, South Africa

Show Comments / Reviews
No Comments / Reviews