Vegan Recipes
Chocolate Chip & Cranberry Buttermilk Rusks
An old South African favourite breakfast or snack food - buttermilk rusks.
Ingredients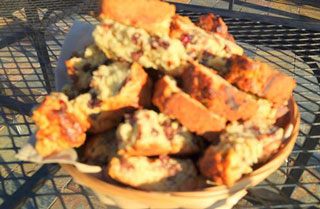 2 Tbsp freshly ground flaxseeds
6 Tbsp hot water
500 ml soy or almond milk
2 Tbsp lemon juice
1 cup of coconut oil
1 kg self-raising flour
1 tsp bicarbonate of soda
1 tsp sea salt
2 tsp aniseed
1 cup sugar
¾ cup dried cranberries
¾ cup vegan chocolate chips
Cooking Instructions
Mix the flaxseeds with hot water and let rest for a while.
Mix the soy/almond milk with lemon juice and let it rest for a while.
Melt 1 cup of coconut oil.
Mix all the other ingredients together separately.
Mix all the wet ingredients together and add to dry ingredients.
Shape round balls and pack in prepared bread pans (single layer). Give the balls a slight lift to a square shape. Fill the pans half way to the top.
Brush a mixture of water and syrup on top of the buns and sprinkle with sesame seeds.
Bake for 35 minutes at 160°C.
Let it cool down and break in smaller pieces or slice. Pack on baking trays and dry in an oven for about 5 hours set at 60°C.
Serves
6
people
Recipe supplied by

Pieter Kotzé

,

Langebaan

, South Africa

Show Comments / Reviews
No Comments / Reviews