Vegan Recipes
Chocolate Chunk Bran Muffins
A sumptuous recipe for vegan muffins, chocolate, bran and apple sauce flavoured!
Ingredients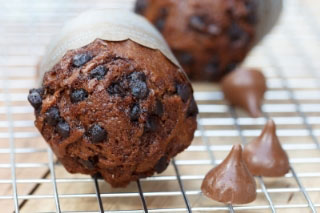 1½ cups wheat bran
1½ cups non-dairy milk
1 cup wholewheat pastry flour
1 Tbsp baking powder
¼ tsp salt
¼ cup water
1 Tbsp ground flaxseeds
⅔ cup dark unbleached sugar
¼ cup unsweetened applesauce
2 Tbsp canola or sunflower oil
1 cup pitted dates chopped into small pieces
100g dark chocolate (can use Albany) chopped into small chunks (all crumbs to be included)
Cooking Instructions
Preheat the oven to 205°C.
Spray a muffin tin with non-stick spray.
Soak the bran and milk together in a medium bowl for 15 minutes. Yes it will look like sawdust.
Mix the ground flaxseeds with the water and stir. Leave for 5 minutes.
Meanwhile, sieve the dry ingredients together in a large bowl. Stir in the chopped dates, sugar and chocolate chips.
Add the remaining ingredients (oil and applesauce) to the blended flaxseed mixture and stir well.
After the bran has soaked for 15 minutes, add the wet ingredient mix to the bowl, stirring briefly. Dump in the dry mix and stir briefly.
Scoop evenly into the prepared muffin tin and bake 20 minutes.
Remove from the oven. Loosen the muffins carefully with a knife or spatula and set them on their sides in their muffin cups to cool for 1–2 minutes.
Remove from tin and place on cooling rack to finish cooling. Let the muffins sit for about 10 minutes before serving.
These vegan chocolate bran muffins are very moist when just taken from the oven, but firm upon standing, and remain moist the next day. Cool thoroughly and store in a closed plastic bag or container. They will keep moist for 2 or 3 days.
They also freeze well.
Serves
12
people
Recipe supplied by

Maureen Cram

,

Hartbeespoort

, South Africa

Show Comments / Reviews
No Comments / Reviews