Vegan Recipes
Gluten-free Vegan Chocolate Orange Cupcakes
A cupcake is a small cake designed to serve one person, frequently baked in a small, thin paper or aluminum cup. As with larger cakes, frosting, icing (chocolate orange in this vegan recipe) and other cake decorations, such as sprinkles, are common on cupcakes. This gluten-free cupcake recipe is designed for gluten-intolerant people.
Ingredients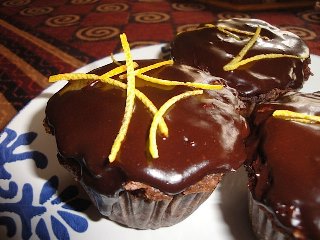 1 Tbsp apple cider vinegar
1½ cups soya milk
2 cups gluten-free self raising flour
½ cup tapioca flour
¼ cup good quality gluten-free cocoa powder
¼ tsp xanthan gum
2 tsp gluten-free baking powder
½ tsp bicarbonate of soda
½ tsp salt
⅔ cup organic raw sugar
½ cup vegetable oil
1 tsp vanilla extract
Grated rind of 1 large orange
2 Tbsp chopped candied orange peel

For the icing:
6 Tbsp raw sugar, ground into icing sugar
4 Tbsp cocoa powder
8 Tbsp orange juice
2 Tbsp coconut oil
1 tsp vanilla extract
Cooking Instructions
Preheat the oven to 180°C, gas mark 4.
Stir the apple cider vinegar and soya milk in a small bowl.
In a large bowl stir all the dry ingredients together well. Add orange and candied peel and rub through with your fingers to eliminate lumps.
Add the oil and vanilla extract to the small bowl with the vinegar and soya milk and mix well.
Add the wet ingredients to the dry ingredients and mix.
Line a muffin tin with paper cups and spoon in the cake mixture.
Bake for 20-25 minutes or until a toothpick comes out clean.
For the icing, mix all the ingredients together until smooth.
Allow the cupcakes to cool, spread over with the icing.
Decorate with some orange rind and serve.
Serves
8
people
Recipe supplied by

Dianne Womersley

,

SA Gluten Free Recipe Exchange

, South Africa

Show Comments / Reviews
No Comments / Reviews