Vegan Recipes
Mince Pies
A mince pie (or minced fruit pie) is a small British sweet pie traditionally baked at Christmas time. Its origins trace back to the 13th century and the tradition of eating fruit pies in December continued through to the Victorian era. Its shape and size have changed considerably over the years as it was once a large oblong shape.

Nowadays the mince fruit pie remains a popular seasonal treat enjoyed by many across the United Kingdom, its commonwealth and former colonies. Here is a vegan version for you to try at home.
Ingredients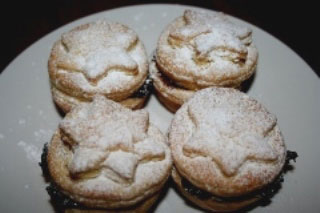 2¾ cup plain flour
1 cup vegan butter
Fruit mincemeat
Pinch of salt
Vegetable oil
2 Tbsp icing sugar, to dust
Cooking Instructions
To make the pastry, rub the vegan butter/margarine into the flour then mix in the sugar and a pinch of salt. Press the mixturey into a ball and knead it briefly. The dough should be fairly firm, like shortbread dough. You can use the dough immediately or store chilled for later.
Preheat the oven to 200°C. Choose a muffin baking tin for the size of the pie you want.
Dust a work surface lightly with a little flour and roll out two-thirds of the pastry to 3mm thick. Cut circles to line the inside cups of your baking tin, don't worry if the pastry doesn't come to the top.
Fill the pastry lined tins two-thirds full with mincemeat.
Roll out the remaining pastry to the same thickness and cut smaller circles to use as lids on the pies. Or to be decorative, cut stars or other fancy shapes.
Top the pies with their lids, pressing the edges gently together to seal. You don't need to seal them with soya milk or water as they will stick on their own (note: the pies may now be frozen for up to 1 month).
Brush the tops of the pies with the vegetable oil. Bake for 20 minutes until golden brown.
Leave to cool in the tin for 5 minutes, then remove and place on a wire rack.
Sprinkle with the icing sugar.
Serve with lightly dust of icing sugar, brandy sauce or ice cream (note: they will keep for 3 to 4 days in an airtight container).
Serves
2
people
Recipe supplied by

Marjorie Marino

,

Bulacan

, Philippines

Show Comments / Reviews
1 Comments / Reviews