Vegan Recipes
Christmas Pudding
Christmas pudding is a traditional dessert, eaten in Britain at Christmas time. It is a fruity brown pudding with raisins, nuts and cherries. It is similar to fruitcake, except that pudding is steamed and fruitcake is baked.

Brandy is often poured over the pudding, which is then set a light as it is carried to the table. The lights are turned off so people can see the flames. So try out my grandma's christmas pudding recipe that dates back to pre- World War days.
Ingredients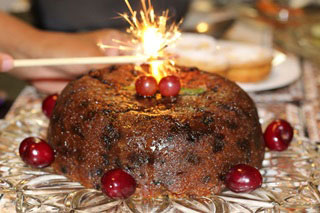 For the Christmas pudding:
¾ cup soya milk
1 cup currants
1 grated carrot
1 cup sultanas
½ cup mixed peel
3 Tbsp egg substitute
1 cup peel chopped almonds
1 cup brown sugar
¾ cup vegetable oil
1 cup breadcrumbs
1 tsp mixed spice
1 cup plain flour 1 grated rind and juice of an orange
1 tsp salt
1 grated rind and juice of a lemon
1 grated apple
1 wine glassful brandy

For the Brandy Sauce:
1 cup Tbsp rich soya cream
¼ cup Tbsp brandy
Cooking Instructions
For the Christmas Pudding (makes 2 large puddings):
Mix all the ingredients together. Allow the mixture to stand overnight, and if stiff the next day add a little extra soy milk to soften.
Put into 2 greased basins, cover with greased greaseproof paper and tie securely with string.
Make a string handle from one side of each basin to the other so it's easier to pick the basins out of the pan after cooking.
Put the basins in a large steamer of boiling water and cover with a lid and then steam for 8 to 10 hrs, topping the boiling water up from time to time if necessary.
If you don't have a steamer, put the basins in a large pan on an inverted saucer on the base. Pour in boiling water to come a third of the way up the sides of the pudding bowls. Cover and steam as before.
After cooking remove the paper and leave until cold.
Store in clean paper and cloth until required. Re-steam for 2 to 3 hrs before eating.
Serves with brandy sauce.
For the Brandy Sauce:
Whipped the cream and brandy together in a whipping or plastic plastic bowl.
Serves
6
people
Recipe supplied by

Marion Hey

,

Yorkshire

, UK

Show Comments / Reviews
No Comments / Reviews