Vegan Recipes
Coconut Curry Roti
Roti, also known as chapati, is an Indian leavened bread made from stoneground wholemeal flour and is similar to a pancake or wrap. This recipe includes a sweet and tangy array of delicious veggies, all rolled up into the roti which makes for an easy, quick and convenient meal. The blend of spices, curry powder, chilli, garlic and ginger, along with the coconut milk are what gives this particular curry dish it's mild, aromatic flavour with a slight kick to it. More chilli can of course be added for extra zing!

You could make your own roti, but for a meal taking under 30 minutes from start to finish, it is easier to use shop bought ones! Check the ingredients to ensure they don't contain butter or ghee.
Ingredients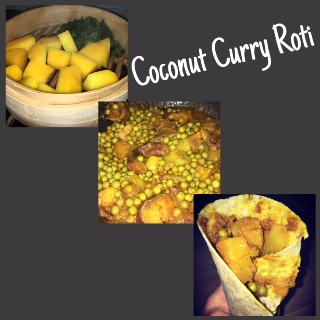 3 small sweet potatoes, diced
3 cups butternut, diced
1 onion, chopped
Tin garden peas, drained and rinsed
1 cup coconut milk
2 heaped Tbsp tomato paste
Packet of rotis
1 Tbsp turmeric
1 Tbsp cumin
1 Tbsp minced garlic, chilli and ginger (can use the pre-minced mixed tub, available from most supermarkets)
1 Tbsp curry powder
1 Tbsp coconut oil
2 heaped Tbsp chutney
2 large handfuls baby spinach
Salt and pepper to taste
Cooking Instructions
Pre steam the butternut, sweet potato and baby spinach for 15 minutes or until almost cooked.
Fry the onion in a wok in a little coconut oil and add the herbs, spices, salt and pepper and add a little water if needed.
Add the tomato paste, chutney and coconut milk, adding a few drops of water here if need be.
Add the steamed vegetables, turn down the heat slightly and simmer for 15 minutes.
Add the peas towards the end of the 15 minutes.
Heat the rotis in a pre heated oven for 2 minutes.
Scoop the curry mixture into the warm roti, roll up and enjoy!
Serves
4
people
Recipe supplied by

Lisa Fine

,

Johannesburg

, South Africa

Show Comments / Reviews
No Comments / Reviews