Vegan Recipes
Coconut Lentil Curry
A delicious, fragrant and creamy curry is my go-to comfort food, and it took me months to finally find a vegan recipe that lived up to the curries I used to know and lust after. It was just never the same, but after lots of experimenting I can finally say that I have found the perfect combination of ingredients to make the most delicious vegan curry.

The best part? It is as healthy as it is tasty – without tasting healthy (if you know what I mean!!) and it is super easy to make.
Ingredients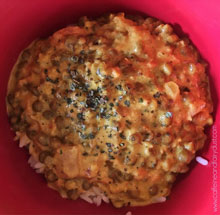 2 Tbsp coconut oil
3 large cloves of finely chopped garlic
1 can chopped tomatoes
3 Tbsp grated ginger
1 heaped Tbsp cumin
1 heaped Tbsp turmeric
1 can brown lentils
1 tsp cayenne powder (optional: depending on how brave you are)
1 Tbsp fruit chutney
1 can coconut milk
Cooking Instructions
Heat the coconut oil in a large sauce pan. Add the garlic and let it brown for about 2 minutes.
Add the can of chopped tomatoes, the grated ginger, cumin and turmeric; let it cook for about 5 minutes, while occasionally stirring.
Add the lentils - and for the brave – the cayenne pepper. Reduce the heat and let it simmer for about 5 minutes. Stir a few times to prevent the lentils from burning to the bottom. Stir in the fruit chutney.
Stir in the coconut milk and let it simmer for another 10 minutes.
Add salt and pepper as needed and serve with cooked basmati rice.
Serves
2
people
Recipe supplied by

Mariza Halliday

,

www.caffeineandfairydust.com

, South Africa

Show Comments / Reviews
No Comments / Reviews