Vegan Recipes
Creamy Butternut Soup
For wet and gloomy winter weather, there is no better soup to make than butternut. This colorful soup is so much fun to make, and the cold climate is soon forgotten.

With a choice of cream or coconut cream, this creamy soup is so satisfying as a great dinner or as a delicious lunch with some homemade bread grilled to perfection in the oven.
Ingredients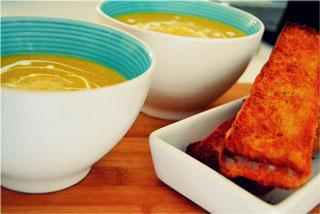 500g butternut squash flesh, diced (about half a medium squash)
600 ml water
½ tsp cinnamon powder
¼ tsp dry turmeric powder
¼ tsp dry sage
¼ tsp dry oregano
¼ tsp dry thyme
⅛ tsp cayenne pepper
⅛ tsp ginger powder
2 cloves of garlic
½ cup lentils
¼ cup dessicated coconut (toasted if preferred)
150 ml cream (can use Orley Whip to get it super creamy or coconut cream)
1 Tbsp fructose
Salt to taste
Cooking Instructions
In a pot, boil the butternut in water with all the spices and coconut until soft, about 15-20 minutes.
While the butternut is cooking, boil the lentils in a separate pan until they are soft and thoroughly cooked. Drain and set aside.
When the butternut squash is soft, blend the soup with a blender or immersion blender until smooth.
Pour the soup back into the pot and once the soup is piping hot, pour in the cream and salt and mix well.
To serve, put the lentils at the bottom of a serving bowl with the soup poured over the top. Dress with some extra toasted coconut or some fresh chopped coriander. Serve with homemade bread or toasted pita bread.
Serves
2
people
Recipe supplied by

Just Add Health

,

Cape Town

, South Africa

Show Comments / Reviews
No Comments / Reviews