Vegan Recipes
Creamy Mushroom and Thyme Vol au Vents
Vol-au-vent is French for "windblown" which describes the lightness of the pastry cases. These small hollow cases of puff pastry have a round opening cut in the top and the pastry scooped out or push down to create little holders for delicious fillings; in this recipe we use cremy mushroom and thyme. These pastries were invented by Antonin Carême in his pastry-shop opened in Rue de la Paix in 1803/4. They are ideal as dinner party finger foods.
Ingredients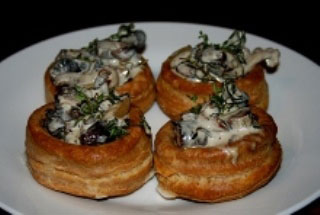 Vol Au Vents:
1 packet vegan puff pastry
Flour to dust
Soya milk to glaze

Filling:
1 Tbsp canola oil
2 Tbsp vegan butter/margarine
2 cups roughly chopped mixed mushrooms
2 crushed and chopped cloves garlic
1 Tbsp fresh thyme leaves
1 tsp chopped fresh rosemary
3 Tbsp brandy
½ cup vegan cream
1 Tbsp flaked almonds
Salt and freshly ground black pepper to taste
Cooking Instructions
Preheat the oven to 180°C and roll the pastry out on a floured surface.
To build the vol au vents, use 2 pastry cutters or glasses. Cut 2 round discs of 10 cm in diameter. Brush one with soya milk and use as the base. Cut a 6 cm round disc out of the center of the second round disc to obtain a ring. Place the ring on top of the base, edge to edge. Repeat the process with the remaining pastry.
Glaze the pastry with soya milk and bake for 25 - 30 minutes or until raised up and browning. Remove from the oven and once cooled, scoop out the pastry that's puffed up inside the pastry case or push down the middle to form a hollow shell. Set aside.
For the mushroom filling, heat the oil and vegan butter in a large frying pan over high heat. Add the mushrooms and sauté for 3 minutes. Add the garlic, fresh thyme, rosemary and brandy. Fry for a further 1 minute.
Add the vegan cream and flaked almonds and cook for 1 minute or until thickened slightly. Remove from the heat and season well.
Spoon the filling into the vol-au-vent cases.
Garnish with thyme.
Serve with your favourite salad, side vegetables or as a snack or appetiser.
Serves
2
people
Recipe supplied by

Marjorie Marino

,

Bulacan

, Philippines

Show Comments / Reviews
No Comments / Reviews