Vegan Recipes
Creamy Mushroom Sauce
Tis is how to make that superb creamy sauce with non-dairy milk; it is sinfully delicious!! Sometimes sauces separate and turn out watery. This is because in our plant-based diets we use milk with a low protein content and it even has no fat, it is also not thick. We have to change it and we have to make a new milk with a stabiliser and added fat. It is the only way to go. You can see recipes using nutritional yeast and other products, but it doesn't taste like the real thing.
Ingredients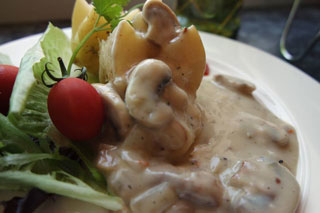 500 ml organic soya milk (can use Woolies)
20g organic corn flour (Nature's Choice)
30g unflavoured organic pure coconut oil (Nature's Choice)
7g Ina Paarman Vegetable Stock powder
150g sliced mushrooms
1/2 white onion diced
2 cloves garlic crushed
Some fresh course black pepper
Cooking Instructions
Add the milk to a small pot, whisk in the corn flour and vegetable stock and coconut oil. Place on a medium stove plate. Keep on whisking, never bring to a fierce boil. Whisk as you go along, turn off the heat when it starts slow bubble. Whisk on for another 2 minutes on very low heat.
Spray the bottom of pan liberally, about one teaspoon.
Slow fry all the remaining ingredients till translucent. Try not to burn them; a dry mixture is fine, it gives off better flavour.
Add some brandy to it - lovely flavours. 2 teaspoons is great, Klipdrift, né - it's vegan.
Add the cooked milk to it and bring to a slow cook. Remove from heat.
You can leave it in the fridge, re-warm - it will never separate.
Serves
4
people
Recipe supplied by

Pieter Kotzé

,

Langebaan

, South Africa

Show Comments / Reviews
No Comments / Reviews