Vegan Recipes
Crispy Potato And Beetroot Salad
A very distinctive salad, perfect to keep you warm in the winter months. Beetroot is a rich source of antioxidants and nutrients, including magnesium, sodium, potassium and vitamin C, and betaine which is important for cardiovascular health. Potato contains vitamins and minerals, as well as an assortment of phytochemicals, such as carotenoids and natural phenols.
Ingredients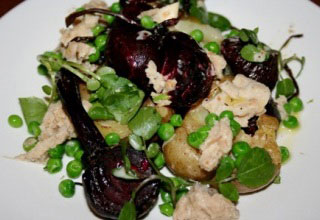 Mock fish flakes
4 baby potatoes
1 bunch trimmed baby beetroot
¼ cup vegetable oil
1 bunch watercress, leaves picked
1 cup blanched and peeled broad beans or peas

Horseradish Dressing:
¼ cup soy mayonnaise or any vegan mayonnaise
1 Tbsp ready-made grated horseradish
1 clove crushed garlic
1 tsp salt
Sea salt and freshly ground black pepper to taste
Cooking Instructions
Preheat the oven to 220°C.
Place the potatoes in a saucepan of cold salted water and bring to boil. Cook until tender (about 12-15 minutes). Drain and cool slightly.
Place 2 tablespoons of the vegetable oil on a baking tray and heat in the oven for 5 minutes. Place the beetroot and the remaining oil in a bowl and toss to coat them.
Squash the potatoes with the back of a spoon and carefully add them to the hot tray with the beetroot. Roast until the potatoes are crisp and the beetroot is tender (about 20 minutes).
Horseradish Dressing: Place the soy mayonnaise, horseradish, garlic, vinegar, salt and pepper in a bowl and mix to combine. Set aside.
Place the roasted vegetables in a bowl with the mock fish, broad beans and watercress and toss to combine. Spoon over the dressing.
Garnish with fresh coriander.
Serve hot with your favourite pasta.
Serves
2
people
Recipe supplied by

Marjorie Marino

,

Bulacan

, Philippines

Show Comments / Reviews
No Comments / Reviews