Vegan Recipes
Curry Brawn
Curry Brawn is an acquired taste and used to be popular in South African households. There is little information available on the internet. By cooking specific cuts of meat together you end up with natural aspic. By simply adding the dish into a mould and cooling it, you get a solid loaf that can be sliced and enjoyed as a delicacy. Now you can enjoy this delicacy without harming any animal in the process.
Ingredients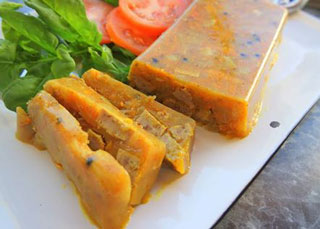 Curry mixture:
3 Tbsp canola oil
1 large onion, diced
3 carrots, grated (small)
1 Tbsp of whole peppercorns
½ cup of rice vinegar
1 tsp of green curry paste
1 Tbsp of red curry paste
1 Tbsp of turmeric
1 Tbsp of powdered stock powder
1 Tbsp of brown sugar
2 cups of water

Other ingredients:
300g of seitan, cut in 1 cm cubes (can use Fry's patties)
2 tsp of agar
½ cup of water

Flax seed gel:
¾ cup of flax seeds
6 cups of water
Cooking Instructions
to make the flax seed gel, boil the seeds and water together for 40 minutes and strain through a sieve (use the seeds in baked goods or smoothies - great source of fibre).
Boil all the curry ingredients together until the vegetables are soft.
Add the seitan. Cook it slightly down and add 2 cups of the strained flax seed gel.
Mix the agar with half a cup of water and add to boiling mixture. Cook on low heat for 10 minutes.
Pour mixture in moulds of choice and refrigerate till firm. Slice and enjoy!
Serves
4
people
Recipe supplied by

Pieter Kotzé

,

Langebaan

, South Africa

Show Comments / Reviews
No Comments / Reviews