Vegan Recipes
Vegan Chicken Dhansak
Dhansak is a popular Indian curry dish. It combines elements of Persian and Gujarati cuisine. In Parsi homes, it is traditionally made on Sundays becuase of the long preparation time. This recipe is a British dhansak version using pineapple chunks for sweetness, however the traditional recipes never contain fruit, instead they make use of the subtle sweetness of squash, pumpkin or gourd.
Ingredients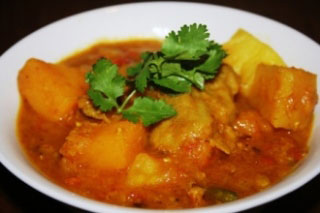 2 mock chicken breasts
½ cup red lentils
2 cups butternut, peeled and chopped into chunks
2 roughly chopped onions
4 chopped large tomatoes
2 tsp turmeric
1 tsp salt
1½ tsp cumin seeds
1½ tsp coriander seeds
4 squashed cardamom pods
1 finely chopped thumb-sized root ginger
4 crushed and roughly chopped garlic cloves
2-3 sliced green chillies (remove the seeds if you don't want it too hot)
1 Tbsp garam masala
2 cups chopped pineapple
5 Tbsp vegetable oil
Coriander for garnishing
Cooking Instructions
Put the lentils, squash, onion and tomatoes in a pan with the turmeric and salt. Add water to just cover and then simmer gently for about 20 minutes until the lentils are tender.
Put the cumin, coriander and cardamom in a small pan and toast until fragrant. Grind in a pestle and mortar or a spice grinder.
Heat the vegetable oil in a pan, add the mock chicken breast in batches and brown all over.
Scoop out, then add the ground spices. Cook for 2 minutes then stir in the ginger, garlic and chillies.
Cook for a few minutes, then add the mock chicken breast, lentils and squash mixture, chopped pineapple and more water if needed.
Cover and simmer for 30 minutes or until the sauce has thickened. Stir in the garam masala
Garnished with fresh chopped coriander
Serve with steamed basmati rice and/or chapatis.
Serves
2
people
Recipe supplied by

Marjorie Marino

,

Bulacan

, Philippines

Show Comments / Reviews
No Comments / Reviews