Vegan Recipes
Eggplant and (Meat-free) Chicken Curry
Eggplant is widely used in Indian cuisine though surprisingly not often seen on menus of Indian restaurants. It is known as Baingan in Hindi.

This South African dish was a finalist in the 2013 Fry's Curry Cook-Off Competition.
Ingredients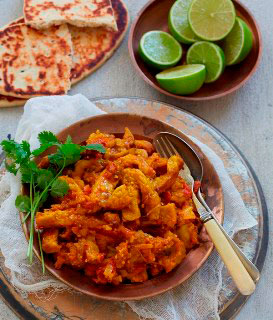 1 box meat-free chicken-style strips
2 large eggplant (brinjal)
2 cloves garlic
3 tbsp oil
½ chopped onion
Curry leaves
3 halved green chillies
1 can chopped tomatoes
Mustard seeds
1 tsp jeera powder
2 tsp turmeric powder
Salt to taste
Cooking Instructions
Preheat oven to 180°C. Place the eggplant and garlic on an oven tray, drizzle with olive oil and bake for about 4 minutes. Remove and allow to cool.
Remove the skin and mash the rest of the eggplant with garlic. Set aside.
Fry the chicken-style strips on high heat for 6 minutes and set aside.
Heat the oil in a saucepan. Add the onions, spices and curry leaves. Add in the tomatoes and salt and simmer for 5 minutes. Add the mashed eggplant and chicken strips to the saucepan. Heat through.
Garnish with coriander and serve with roti.
Serves
2
people
Recipe supplied by

Usha Padayachee

,

Region not supplied

, South Africa

Show Comments / Reviews
No Comments / Reviews