Vegan Recipes
Eve's Pudding
Eve's pudding is a traditional British sponge pudding made from apples, and the dish dates back to 1823. The apples stew at the bottom of the baking dish while the sponge mixture cooks on top. The name is a reference to the apple from the Adam and Eve myth.
Ingredients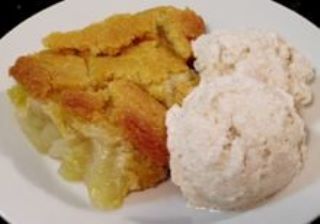 For the filling:
2 large cooking apples
1 lemon, zest and juice
¼ tsp ground cinnamon
2 Tbsp brown sugar
1 Tbsp boiling water

For the topping:
⅓ cup vegan margarine
½ cup caster sugar
1 cup self-raising flour
2 mashed bananas
½ tsp vanilla extract

To serve with:
Vegan custard or vanilla ice cream
Cooking Instructions
Preheat the oven to 180C/350/Gas 4.
Peel, core and roughly chop the apples.
Put the apples in a large bowl and combine with the sugar, lemon zest and juice, and the cinnamon.
Transfer to a round, 2-litre ovenproof dish, add in the water and set aside until needed.
Beat the vegan margarine and caster sugar in a bowl until pale and fluffy. Add the mashed bananas, mix in the vanilla, then sift in the flour and gently mix to make a dropping consistency.
Spread the mixture over the apples and bake for 40 minutes or until the topping is cooked through and golden.
Sprinkle with extra caster sugar and serve with vegan custard or vanilla ice cream.
Serves
4
people
Recipe supplied by

Marjorie Marino

,

Bulacan

, Philippines

Show Comments / Reviews
No Comments / Reviews