Vegan Recipes
Fruity Baobab Ice Lollies
Bursting with fresh, fruity flavours with a zesty tart twist of organic baobab powder, these ice lollies/ice pops are instant summer crowd-pleasers that are guilt-free and healthy.

Baobab powder is loaded with vitamin C, magnesium, potassium and digestive fibre. It's also one of the richest plant-based sources of calcium. Our diets are often deficient in these minerals and baobab powder is an excellent source of these nutrients.

These flavours were chosen for their brilliant colour and summer-sweet flavours. Try one, try them all, or invent your very own combinations!
Ingredients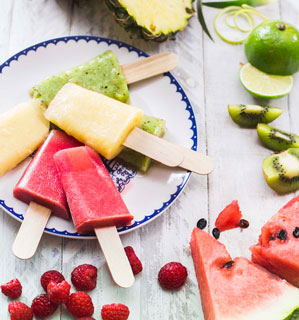 ½ cup juice (we used apple)
1 Tbsp baobab powder
1½ cups fresh fruit, peeled and chopped (see favourite combinations below)
Optional: 2 tsp syryp, if you prefer it sweeter

Watermelon, Baobab and Raspberry
1 cup watermelon
½ cup raspberries

Pineapple and Baobab
1½ cups fresh pineapple pieces

Kiwi, Baobab, and Lime Zest
1½ cups kiwi fruit (about 3 kiwis)
Juice of ½ lime as part of the ½ cup of juice
Pinch of lime zest
Cooking Instructions
For a pretty twist on the usual, keep a few pieces of fruit aside to add after blending; about 2-4 small pieces per ice lolly.
Blend the ingredients together until smooth, and pour into the moulds. Add the fresh fruit chunks and then the ice lolly sticks.
Freeze for 5-6 hours, or overnight.
Serves
6
people
Recipe supplied by

Eco Products

,

Limpopo

, South Africa

Show Comments / Reviews
No Comments / Reviews