Vegan Recipes
Vegetarian Braai
A braai can be just as exciting and delicious with healthy vegetarian foods as it is with meat dishes. Vegetables cooked on a braai can turn out much better than they do when steamed/grilled/boiled, which is what makes it so delicious to eat healthy!

This recipe includes cooking instructions for veggie sausage skewers (kebabs), roasted butternut and mielies on the grill.
Ingredients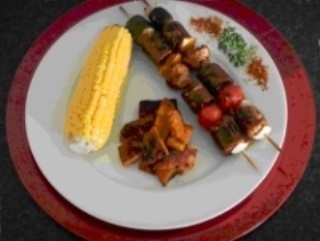 4 Fry's Braai Flavoured Sausages
2 or 3 baby marrows
8 baby tomatoes
6 medium mushrooms
¼ onion, chopped into pieces that can fit on skewers
¼ yellow pepper, chopped into bite size pieces
Steak sauce
BBQ spices
6 skewer sticks
1 butternut
Olive oil
2 mielies (corn on the cob)
Vegan margarine
Cooking Instructions
Veggie sausage skewers:
Leave the frozen sausages to defrost until they are soft enough to skewer, then chop them into quarters.
Add all of the chopped vegetables and sausages onto the skewers in the desired order.
Lay the skewers on a tray and cover with steak sauce and spices. Cook on a medium heat braai, turning regularly until well cooked.
Butternut chunks:
Peel and chop a fresh butternut into chunks.
Lay the chunks in thick foil, drizzle with olive oil and BBQ spices (or spice of your choice). Cook on a medium heat braai for approximately 30 minutes or until butternut is well browned and slightly crisp.
Mielies (sweetcorn):
Generously 'butter' the mielies and wrap in thick foil. Cook on the braai for approximately 40 minutes until soft and juicy.
Serve with a side portion of garlic bread or salad.
Serves
3
people
Recipe supplied by Tammy Fry, Meat Free Mondays,

Durban, KwaZulu Natal

, South Africa

Show Comments / Reviews
No Comments / Reviews