Vegan Recipes
Healthy Vegan Boere Rusks
Rusks are very much a Boere thing, but the recipes often have loads of sugar and margarine. This is a healthier way of doing this old South African traditional recipe. It uses no standard flour, sugar or sweeteners, nor margarine, and it is extremely healthy and less time consuming to make.
Ingredients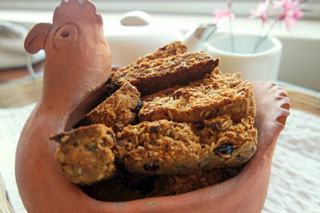 125g pitted dates
1 tsp bicarbonate of soda
125 ml boiling water
2½ cup Glutagon self raising flour*
1 cup Nature's Choice Oatbran Flakes
Pinch sea salt
6 Tbsp heated coconut milk mixed with 2 tsp ground flax seeds
1 cup of chopped nuts and seeds
2 Tbsp currants
2 tsp fresh orange rind
1 tsp cinnamon
1 large green apple, chopped fine
100g coconut oil/butter
1 tsp of vanilla extract

* You can use standard flour, just add 2 tsps of baking powder to it and increase the amount to 3 cups. Or simply standard self-raising flour 3 cups also, or nutty wheatn or 2 cups whole wheat flour and 1 cup standard cake flour, mix.
Cooking Instructions
Chop the dates in to small pieces, add the bicarb and pour boiling water over.
Mix the flour, oat bran, salt and work the coconut oil through. Add the seeds and the rest of the ingredients. It is a gooey dough, try not to overmix.
Separate the dough in to 2. Spray a large baking sheet with cooking spray. Place dough on sheet and shape 2 logs of about 50 cm x 10 cm. Wet your hands if you find the dough is difficult to work.
Bake for 25 minutes at 180°C.
Take out of the oven, cool down for about 30 minutes, and then slice in even sections across. A serrated knife works best, by pressing onto the dough and move it away with the knife.
Turn the pieces over so that the raw section is on the sheet. Spread evenly and bake for another 15-20 minutes.
Handle with care, it can easily break when hot.
Serves
24
people
Recipe supplied by

Pieter Kotzé

,

Langebaan

, South Africa

Show Comments / Reviews
1 Comments / Reviews