Vegan Recipes
Hertzoggies
Hertzoggies are classic South African dessert tartlets. They are light and puffy, with a delectable apricot jam filling.
Ingredients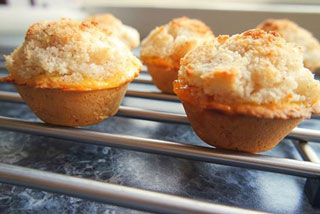 2 cups stone-ground organic cake flour
2 tsp baking powder
Pinch of sea salt
3 Tbsp Xylitol (or South African granulated sugar is fine)
¼ cup coconut oil
¼ cup soy or almond milk
1 Tbsp lemon juice
3 Tbsp pumpkin puree (can use Purity Organic)
Cooking Instructions
Pre-heat the oven to 180°C.
Mix the cake flour, baking powder, sea salt and Xylitol quickly in your blender.
Add in the coconut oil, soy/almond milk, lemon juice and pumpkin puree. Blend until a solid ball stage (if not, add little bit of cold water to it).
You can let the dough rest for a while and then roll it out. If you don't have enough time then do a simple process - less fuss, less mess. Spray a muffin pan out with cooking spray. Shape the balls and weigh off on your kitchen scale - 40g. Place the balls in a muffin pan and shape with your fingers. Dip your fingers in flour. Line the cups out with the dough. Place in a freezer.
For the topping, place a teaspoon of apricot jam in the centre of the muffin pan. You can use berry jam also, the less sugar the better.
Serves
12
people
Recipe supplied by

Pieter Kotzé

,

Langebaan

, South Africa

Show Comments / Reviews
No Comments / Reviews