Vegan Recipes
Homemade Vegan Tim Tam
A veganised version of this well known Australian biscuit. The original biscuit used as base is actually based on Baker's Digestive Biscuits, and the end result will be round and not square like the one on the picture. You can use gluten free biscuits to make them as well.
Ingredients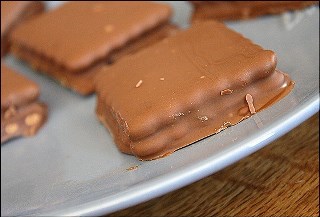 1 packet Bakers Digestive biscuits, or more
½ cup Orley whip
2 Tbsp chocolate spread - can use Vegan Nutella
60g +400g Beacon Midnight Velvet chocolate
½ cup icing sugar
1 tsp coconut oil
Cooking Instructions
Heat cream in on low heat in a thick base pot, then add the chocolate spread, icing sugar and 60g chocolate, chopped, and stir to combine. Chill in fridge for 1–2 hours.
Take one biscuit and spread with chocolate cream. Sandwich with another biscuit. Repeat until all the biscuits and chocolate cream have been used. Freeze for 20 minutes.
Meanwhile, melt remaining 400g chocolate. Stir through the coconut oil and mix until shiny.
One at a time, dip the filled biscuits in the melted chocolate, tapping gently to remove any excess chocolate. Place on a tray lined with baking paper. Repeat.
Refrigerate for 1–2 hours or until the chocolate has set.
Serves
24
people
Recipe supplied by

Pieter Kotzé

,

Langebaan

, South Africa

Show Comments / Reviews
No Comments / Reviews