Vegan Recipes
Hummingbird Cake
Hummingbird cake is a banana-pineapple cinnamon-spiced cake, invented in Jamaica but now common in the southern United States of America.
Ingredients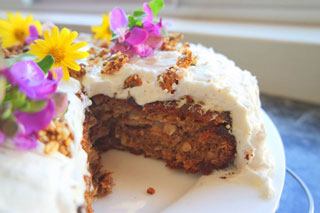 1 cup dates-chopped
½ cup of maple or cane syrup
2 ripe bananas
1 tsp ground cinnamon
½ tsp Allspice and nutmeg
Pinch of sea salt
50g coconut flakes (use large flakes from Komati)
1 cup of Veganaise or any good vegan mayo
2 Tbsp flax and 4 Tbsp boiling water - mix and let rest
1 cup of minced pineapple
1 tsp bicarbonate of soda and baking powder
250g organic cake flour

For the Topping:
1 can chilled coconut cream
1 tsp vanilla extract
1 Tbsp of psyllium husks
¼ cup maple syrup
Crunchy granola as topping
Cooking Instructions
Heat the maple or cane syrup and add it to the dates, then blend.
Blend in the banana. Fold in the mayo, minced pineapple, flax mixture and coconut flakes. Mix spices, bicarb, baking powder and salt with the flour. Fold into the batter.
Place in a 20 cm spring form pan and cover with foil. Bake in moderate oven for about 40 minutes at 160°C, uncover the foil and bake another 20 minutes until cooked.
For the topping: whisk the coconut cream till stiff, add maple, vanilla extract and psyllium husks. Beat till stiff.
Cover the cake with it. Sprinkle some syrup over the granola on a flat baking tray and bake till crispy. Keep an eye on it as it can burn. Let it cool down and sprinkle over the cake.
Serves
8
people
Recipe supplied by

Pieter Kotzé

,

Langebaan

, South Africa

Show Comments / Reviews
No Comments / Reviews