Vegan Recipes
Avocado and Chocolate Vegan Milkshake
Many people may know avocado only as an ingredient for savoury dishes and salads, but South East Asians know it as an ingredient in drinks. Enjoy this creamy, rich traditional Indonesian-style avocado vegan milkshake recipe with chocolate syrup!
Ingredients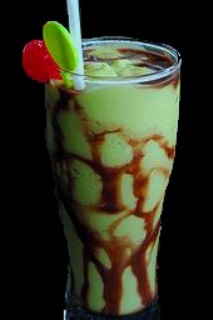 2 cups of ice cubes
1 avocado, peeled and seeded
1 cup soya milk
1 tsp vanilla extract
2 tsp sugar
Chocolate syrup
Cooking Instructions
Peel and de-seed the avocado. Scoop out the pulp, making sure to leave behind any browned or blackened parts.
Put the ice and milk in the blender first, followed by the avocado, sugar and vanilla. Blend until it reaches a nice milkshake consistency.
Drizzle the inside of the serving glasses with chocolate syrup and allow some to trickle down. Pour the mixture into the glasses.
Garnish with cherries or flowers if you like. Serve cold.
Serves
2
people
Recipe supplied by

Marjorie Marino

,

Bulacan

, Philippines

Show Comments / Reviews
No Comments / Reviews