Vegan Recipes
Lancashire Hotpot
Lancashire Hotpot is a baked dish made traditionally from lamb or mutton and onion, topped with sliced potatoes. This vegan recipe version uses soya mince and lentils as a substitute for the meat. The 'hot pot' is a heavy pottery dish used to cook casseroles in Britain. The dish is left to bake in the oven all day in the pot and on a low heat.

Originating from the days of industrialisation in the north west of England, it is easy to prepare and is sometimes served at parties in England because it is a simple dish to make for a large number of people and it is relatively inexpensive.
Ingredients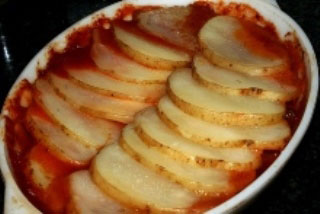 1 large chopped onion
2 Tbsp vegan butter or vegan margarine
1 Tbsp vegetable oil
1 sliced carrot
1 sliced sweet potato
1 sliced turnip
4 large chopped tomatoes
½ cup soya mince (or any meat substitute)
1 cup lentils
2 bay leaves
Plain flour
2 tsp vegan Worcester sauce
2-3 sliced medium-sized potatoes
Salt and pepper to taste
Cooking Instructions
Heat an oven to 160°C/fan 140°C/gas 3.
Fry the onions in a drop of vegetable oil over a medium heat until caramelised.
Add lentils, carrots, sweet potatoes and turnips to the onions, plus the vegan butter and leave to cook for a few minutes.
Sprinkle over the flour, allow to cook for a couple of minutes, shake over the Worcester sauce, add water if needed, then bring to the boil.
Stir in the tomatoes, soya minced, bay leaves and salt and pepper to taste, then turn off the heat.
Pour the mixture from the pan into a pot that can be put into the oven. Arrange the sliced potatoes on top of the mixture, then brush with a little more vegetable oil. Cover, then place in the oven for about 1½ hrs or until the potatoes are cooked.
Garnish with chopped parsley.
Serve with pickled red cabbage or beetroot.
Serves
4
people
Recipe supplied by

Marjorie Marino

,

Bulacan

, Philippines

Show Comments / Reviews
No Comments / Reviews