Vegan Recipes
Meat Free Butter Chicken
This Meat-free Butter Chicken recipe was a finalist in the Fry's Curry Cook-Off competition. It's an Indian style curry that uses mock chicken. Murgh makhani, as it is know in India, is a traditional dish from Punjab. Butter chicken is usually served with naan bread, roti, paratha and/or steamed rice.
Ingredients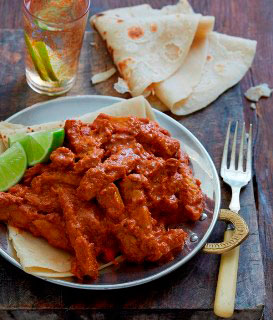 1 box Fry's Meat Free Chicken-style strips
1½ tsp ginger paste
3 tsp fennel powder
½ tsp each clove powder & pepper
1 tsp yellow food colouring
100g vegan butter & 1 tsp oil
30g vegan butter
1 tsp fennel seeds
1 cup onions, grated
4 fresh chillies
6 cloves garlic, mashed
410g tomato puree
1 can evaporated milk (dairy-free alternative)
½ tsp elachi (cardamom)
½ tsp pepper
Cooking Instructions
Place Fry's Chicken-Style Strips in a bowl. Add the ginger paste, fennel and cloves powder, food colouring and pepper. Rub spices lightly into the Fry's strips then fry in butter & oil.

Remove the Fry's strips and add an extra 30g butter to the pan. Stir in the fennel seeds and onions until soft. Add garlic and stir-fry for 1 minute. Stir through tomato puree and bring to the boil. Add Fry's strips and salt to taste. Stir in evaporated milk. Sprinkle elachi and pepper over the strips.

Heat through before serving. Serve with hot soft parathas, naan or basmati rice.
Serves
4
people
Recipe supplied by

Anitha Roopnarian

,

Region not supplied

, South Africa

Show Comments / Reviews
No Comments / Reviews