Vegan Recipes
Meat Free Chicken Kalya
A finalist recipe from the 2013 Fry's Curry Cook-off Competition, this is an Indian influenced dish that works well as a wrap.
Ingredients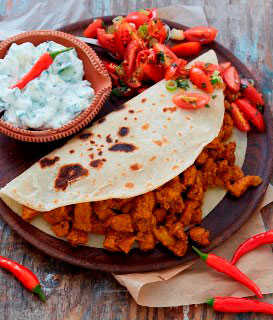 500g Meat free chicken-style strips
1 tsp ginger & garlic paste
1 tsp each salt, garam masala, dhania powder
½ tsp each turmeric powder, crushed chillies, cinnamon powder
1 Tbsp mixed masala
1 Tbsp each fried onions, oil, tomato puree
2 sprigs thyme
2 green chillies
¼ cup water
1 Tbsp dairy-free sour milk (maas)
Cooking Instructions
Grease a thick-based pan with oil and heat for 1 minute. Add the chicken-style strips and allow to simmer for 2-3 minutes until half cooked.
Add in all the ingredients except for the water and maas. Allow to cook for 6-8 minutes. Add water if needed. Ensure the chicken strips are now cooked and golden brown.
Thereafter add in the maas and allow to simmer for 2-3 minutes.
Garnish with coriander and serve with Indian bread.
Serves
4
people
Recipe supplied by

D. Naicker

,

Region not supplied

, South Africa

Show Comments / Reviews
No Comments / Reviews