Vegan Recipes
Meat-free Sweet & Sour Chicken Chutney
This is a simple yet tasty Indian-influenced South African dish. It was a finalist in the Fry's Curry Cook-Off Competition of 2013.

Ingredients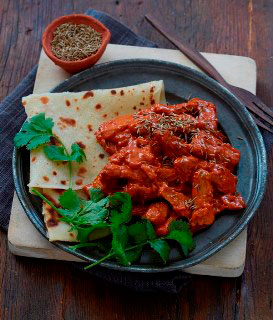 1 box Meat-free chicken-style strips
100g salted vegan butter or ¼ cup olive oil
1 Tbsp crushed garlic
2 Tbsp crushed ginger
½ cup vegan mayonnaise
3 tsp apricot jam
2 tsp crushed red chillies
½ cup tomato puree or fresh grated tomato
1 tsp each cumin powder and dhania powder
2 tsp chilli powder
1 finely chopped onion
Cooking Instructions
Heat the vegan butter/oil and lightly fry the chicken-style strips until golden brown. Remove from the oil and place on a paper towel.
To the remaining butter/oil, add the ginger, garlic and onion. Sauté for 2-4 minutes.
Stir in the rest of the ingredients, starting with the dry ingredients, then the wet. Cook until well blended and the oil starts to surface. Make sure to season with salt.
Add the chicken-style strips and allow to simmer on medium-low heat for about 8-10 minutes.
Garnish with chopped coriander and serve.
Serves
2
people
Recipe supplied by

Trisha Pillay

,

Region not supplied

, South Africa

Show Comments / Reviews
No Comments / Reviews