Vegan Recipes
Mince and Bean Burritos
Burritos, literally meaning "little donkeys" are a staple of Tex Mex Cuisine. A beautifully tasty little dish consisting of a corn or flour tortilla, rolled around a wonderful array of spicy beans, guacamole, peppers, onions and whatever else you want to add to the mix. Try adding Fry's vegan mince for a little extra zhoosh, but feel free to do this dish your way ...
Ingredients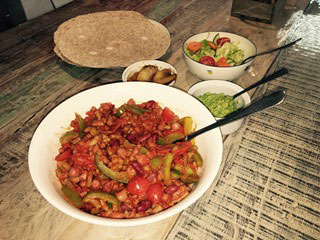 1 onion, diced
2 peppers, diced
Handful of cherry tomatoes, chopped
Tin of 4 bean mix
Tin of tomato and onion mix
3 heaped Tbsp tomato purée
Box of Fry's vegan mince
1 avocado, mashed
Corn or flour tortillas
1 tsp chilli and garlic paste or fresh
1 tsp paprika
1 tsp cayenne pepper
1 tsp chilli flakes
Salt and pepper to taste
Preferred salad ingredients to add to your burrito
Cooking Instructions
Fry your onion, peppers, tomatoes in a little coconut oil and add the herbs, spices, salt and pepper to taste.
Add a tin of tomato and onion mix and the tomato purée.
Add the drained and rinsed beans.
Add the Fry's mince, turn down the heat and simmer gently for 10 minutes.
Mash your avocado and prepare a small salad to add to your burrito.
Warm the tortillas in an oven for 3 minutes.
Add the guacamole, salad and cooked bean and mince mixture, wrap up, eat and enjoy. Ole!
Serves
4
people
Recipe supplied by

Lisa Fine

,

Johannesburg

, South Africa

Show Comments / Reviews
No Comments / Reviews