Vegan Recipes
Mince and Methi Bhaji
The term 'bhaji' is often used to describe fritter dishes, but also, as in this recipe to describe a leafy green vegetable stir fry with indian spices.'Methi' means fenugreek leaves which are bitter in taste and rich in potassium, calcium, iron, vitamin C, as well as dietary fibre. This vegan methi bhaji recipe goes well with rice and/or bread.
Ingredients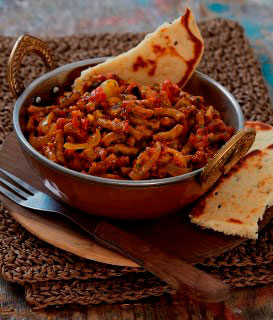 1 box/packet meat-free mince
¼ cup oil
1 large onion
3 cloves sliced garlic
2 dried chillies
1 tsp ginger paste
½ tsp mustard seeds
1 tsp whole jeera
2 Tbsp mixed masala
6 bunches methi bhaji (herbs)
3-4 ripe tomatoes
Cooking Instructions
Heat the oil and fry ½ an onion, thinly sliced, with the mustard seeds, jeera, ginger paste, dried chillies and garlic, until golden brown.
Add the masala and fry for the 30 seconds.
Add the mince and braise well.
Add the methi herbs and salt to taste.
After about 3 minutes, add the tomatoes and allow to cook until almost soft.
Then add the remaining onion, thickly sliced, and some green chilli. Allow the onion to soften.
Garnish with dhania and serve with roti, rice or fresh bread.
Serves
2
people
Recipe supplied by

Jeritha Bugwandeen

,

Region not supplied

, South Africa

Show Comments / Reviews
No Comments / Reviews