Vegan Recipes
Kadai Mushroom
Kadhai is a stir-fried curry from southern India. The word (often spelt kadhai, karahi, kadai, korai, karai, kadhi, kadahi) is a wok-like cooking pan with circular handles, used for frying and cooking vegetable dishes. The best kadais have thick, heavy bottoms.

The kadai curry is the precursor to the 'Balti' in terms of it being served in a sizzling hot dish.
Ingredients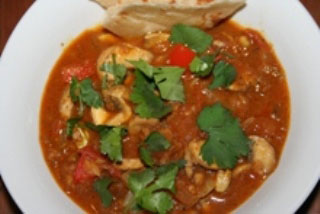 1½ cup sliced button mushrooms
2 medium onions (1 finely chopped, 1 chopped into medium cubes)
1 small bell pepper
4 large chopped tomatoes
2 Tbsp ginger & garlic paste
2 tsp red chilli powder
1 tsp coriander powder
1 tsp cumin powder
1 tsp garam masala
3-4 Tbsp oil
½ cup water
Coriander leaves
Salt and pepper to taste
Cooking Instructions
Sauté the mushrooms for 1 minute without using oil. Set aside
Heat the oil in a wok, fry the finely chopped onion until it turns transparent. Add the ginger and garlic paste, red chilli powder and sauté. Add the tomatoes and allow it to cook on a medium high heat.
Once the tomatoes are tender, add water and stir. Add the coriander powder, cumin powder, garam masala powder, salt and pepper to taste, and stir well. Cook for 3-4 minutes over a medium heat.
Add the cubes of onion and bell pepper, and allow to cook for a further 1 or 2 minutes.
Add the sautéed mushrooms. Add salt, and more coriander and cumin powder if required.
Garnished with fresh chopped coriander.
Serve hot with roti, naan bread or steamed rice.
Serves
2
people
Recipe supplied by

Marjorie Marino

,

Bulacan

, Philippines

Show Comments / Reviews
No Comments / Reviews