Vegan Recipes
Pad Thai
This is one of the most popular Thai dishes, particularly amongst first time visitors to the kingdom since it is one of the few dishes that does not contain any chillies. You'll find many street vendors selling this noodle dish, and it is for this reason that Thais tend to eat this as a snack at any time of day (or night).
Ingredients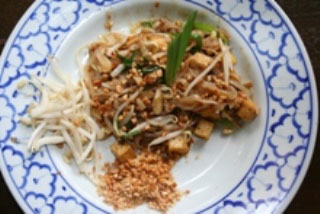 250g straight cut rice noodles
2 cups chopped tofu
1 tsp egg replacer
1 tsp dark soy sauce (for noodles)
3-4 cups bean sprouts
½ cup coarsely pounded peanuts
3 Tbsp light soy sauce
3 Tbsp dark soy sauce (for sauce)
3 Tbsp white vinegar
3 gloves garlic
4 chopped red onions
1 tsp brown sugar
Vegetable oil
Cilantro and lime wedges for garnish
Cooking Instructions
Soak noodles in hot water according to the package instructions and then add 1 tablespoon of dark soy sauce. Mix it well so that the noodles absorb the sauce.
Mix the light soy sauce, dark soy sauce, white vinegar and brown sugar in a bowl together, then set aside.
Heat the oil in a frying pan, add the garlic and fry it until fragrant. Add the tofu and stir fry until heated through.
Dissolve the egg replacer in 2 tablespoons of water and add to the tofu. Stir until thickened.
Now add the noodles, stir fry for 1 more minute and add the sauce you made earlier. Stir fry for 1-2 minutes more.
Add the beansprouts and continue stir-frying until the sprouts soften slightly. Add the red onions and peanuts, and stir-fry for about 1 minute.
Garnish with cilantro and lime wedges. Serve while hot.
For a touch of Thai authenticity, season on the plate with coarse chilli powder, sugar, finely sliced chillies in vinegar and chopped devil chillies in soy sauce.
Serves
2
people
Recipe supplied by

Marjorie Marino

,

Bulacan

, Philippines

Show Comments / Reviews
No Comments / Reviews