Vegan Recipes
Panang Curry
Gaeng Panaeng takes it name from the city island of Panang off the Malaysian west coast, which is also known as Georgetown. Panang curry is sweeter, richer and creamier then the more herbal Thai red or green curries, and this makes it popular with foreigners. It is a drier type of curry, more like its Indian cousins, with just enough sauce to cover the vegetables.
Ingredients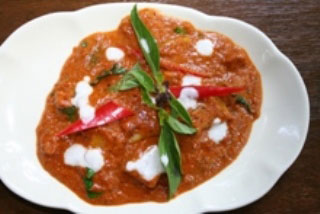 2 faux chicken breasts (or other faux meat if preferred)
2 large cubed potatoes
1 cup broccoli
1 cup cubed zucchini (can use eggplant if preferred)
3 Tbsp Panang curry paste
1 can coconut milk
¼ cup coarsely ground roasted peanuts
½ tsp salt
3 Tbsp palm sugar
1 Tbsp light soy sauce
6 kaffir lime leaves and red chili slices for garnish
Cooking Instructions
Heat 1 cup of coconut milk over medium heat until oil begins to form on the surface. Add the curry paste, stirring constinuously for 2 minutes until fragrant. Add the chicken breasts (or other faux meat) and cook for a further 3 minutes or until done.
Add the remaining coconut milk and the vegetables, season to taste with salt, soy sauce and sugar. Add the roasted peanuts and stir well. Reduce the heat and simmer for 10 minutes or until the vegetables are tender.
Garnish with red chilies and kaffir lime leaves and serve with steamed jasmine rice.
Serves
2
people
Recipe supplied by

Marjorie Marino

,

Bulacan

, Philippines

Show Comments / Reviews
1 Comments / Reviews