Vegan Recipes
Vegan Prawn Pathia
Like it's more famous cousin Dhansak, Pathia (or Patia) is a Parsee Indian curry dish. A traditional Phatia curry is made with fish cooked in a dark vinegar sauce. The restaurant-style Patia is hot, sweet and sour in equal measure.
Ingredients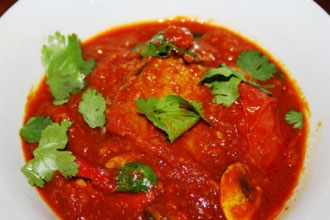 ½ pack soya prawns (or any mock fish/meat)
½ cinnamon stick
4 cardamon pods
4-5 cloves
5 fresh curry leaves (depends on your taste)
1 small finely chopped onion
1 chopped fresh green chilli,
2 tsp tomato puree or paste
1 cup vegetable stock or water
2 large tomatoes, cut into wedges
4 Tbsp Vegetable oil and 1 Tbsp vegan butter
Fresh coriander

Pathia Spice Mix:
1 tsp coriander powder
1 Tbsp garam masala
1 tsp smoked paprika
1 tsp curry powder
½ tsp red chilli powder (add more if you like it hotter)
1 tsp turmeric powder

Curry Puree:
½ Tbsp fresh ginger
1 tsp tamarind extract
1 tsp mango chutney or peach chutney
1 tsp brown sugar
1 tsp vegan Worcester sauce
1 roughly chopped medium sized onion
150g or tinned tomatoes
¼ cup water
Cooking Instructions
Heat the oil in a large heavy frying pan then fry the soya prawns (or mock meat) over moderate heat until they are sealed and have turned golden brown. Remove them from the pan and set aside.
Heat the oil in a saucepan and add the cinnamon, cloves, cardamon and curry leaves, then fry for 30 seconds. Add the onions and green chilli and fry on a medium heat until brown.
Add the tomato puree and the ingredients of the pathia spice mix, frying for 2 minutes. The spices will begin to release their oils and aroma.
Add the ingredients of the curry puree mix and fry for another 2 minutes.
Add the vegetable stock and simmer on a medium to low heat for 5 minutes. Check the flavour and add salt if needed.
Then add the vegan prawns and simmer for 5 minutes. 3 minutes before the end, add the chopped coriander and fresh tomatoes.
Garnish with freshly chopped coriander
Serve with steamed basmati rice or naan bread.
Serves
2
people
Recipe supplied by

Marjorie Marino

,

Bulacan

, Philippines

Show Comments / Reviews
No Comments / Reviews