Vegan Recipes
Pieter's Vegan Buttermilk Scones
Buttermilk Scones are a very traditional 'cake'/bread. They are usually made of wheat, barley or oatmeal, with baking powder as a leavening agent, and often lightly sweetened. They are served as part of 'tea' or as a dessert.

Making the buttermilk from non-dairy milk is very simple, just don't try it with rice milk or coconut milk; it is all about the protein content and acidity clashes with protein in order to make it curdle. Soya milk works best, then almond milk.
Ingredients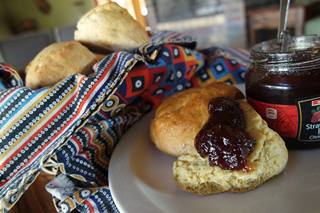 4 cups cake flour
2 Tbsp baking powder - level spoon, not heaped
1 tsp bicarb of soda - level spoon, not heaped
1 tsp salt
1 heaped Tbsp sugar
180g Olé light spread, block-cut into small cubes
1½ cups soya milk mixed with 2 Tbsp lemon juice - stir, and let rest for 10 minutes
Melted spread to brush scones as they come out of oven
Cooking Instructions
Preheat oven to 180°C.
Sift the flour with the baking powder, bicarbonate of soda, salt and sugar in a large bowl. Cut in the chilled margarine until the texture is of coarse crumbs.
Stir in the buttermilk to form a soft dough. Now, this step is important. Use a table knife and slice/stir through the mixture to combine together. Incorporate fully, but don't kneed or over-mix. The secret in perfect low fat baking is not to over-mix.
Transfer the dough onto a floured surface and roll or pat to about 5 cm thick. Cut into 8 cm rounds and arrange on a baking sheet that has been lightly greased or lined with parchment paper.
Bake for about 20-25 minutes or until golden.
Remove from oven and brush with melted margarine.
Remarks: they are light, crispy on the outside and soft inside. Be careful with your baking powder and bicarb measurement. Use aluminium-free baking powder if possible, but in this recipe you need bicarb to react with the acidity to make it lighter.
Serves
8
people
Recipe supplied by

Pieter Kotzé

,

Langebaan

, South Africa

Show Comments / Reviews
No Comments / Reviews