Vegan Recipes
Raw Vegan Sushi with Creamy Dipping Sauce (Low fat!)
Sushi is commonly made with rice, which doesn't mean you have to omit it when you live a raw vegan lifestyle. You simply substitute the cooked rice for cauliflower 'rice'! It's super simple and delicious! In the cooked food world, sushi is usually served with soy sauce. Soy sauce is unfortunately high in sodium, and therefore it's recommended for health reasons to prepare a raw dipping sauce instead without added salt. Where do we get our mineral salts from when we don't add salt to our dishes? The answer is simple. The liquids from fruits and vegetables contain all the mineral salts we need, in safe and usable form.
I hope this recipe helps you increase your consumption of raw fruits and vegetables.
I recommend to serve the sushi with a salad and freshly squeezed orange juice (acid fruits combine best with fatty fruits and all vegetables).
Ingredients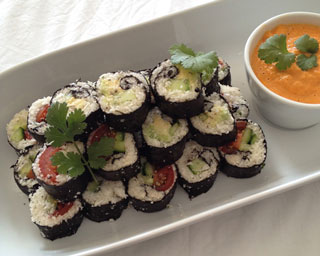 Sushi:

5 raw nori sheets
1 cauliflower
½ cucumber
+/- 25 rosa tomatoes
½ avocado
Juice of 1 lime
Small bunch of coriander

Dipping Sauce: (generous portion)

2 ears of sweet corn
2 small sweet red bell peppers
Juice of 1 orange
1/3 avocado
2 stalks spring onions
Habanero to taste
Cooking Instructions
Sushi:
Making the rice – Take the cauliflower and rinse with water, then cut into medium sized pieces and place in a food processor with an S-shaped blade. Turn on high until the cauliflower turns into a rice-looking texture.
Chop the coriander finely. Squeeze lime juice on top of the cauliflower. Mix the cauliflower 'rice' with the coriander and the lime juice.
Cut the cucumber and avocado into fine slices and the rosa tomatoes in half. Roll the cauliflower rice with the cucumber, avocado and tomatoes in the nori sheets with a bamboo sushi mat. Cut the sushi roll into bite sized pieces.
Sauce:
Blend the corn kernels, bell peppers, orange juice, avocado, spring onion and habanero.
Serve the sauce with the sushi rolls.
Serves
1
people
Recipe supplied by

Lien Vanneste

,

Bloemfontein

, South Africa

Show Comments / Reviews
No Comments / Reviews