Vegan Recipes
Red Kidney Bean and Chickpea Loaf
A moist vegetable loaf. Serve with risotto, salad and mushroom sauce.
Ingredients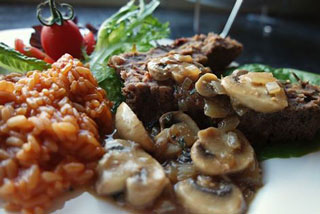 1 can chickpeas, drained
1 can red kidney beans, drained
½ large white onion, chopped
2 tablespoons chopped fresh herbs (can used basil, rosemary and thyme)
1 tablespoon fresh celery
1 clove garlic crushed
½ cup of Macadamia nuts (you can use any)
1 teaspoon Ina Paarman vegetable stock powder
Coarse black pepper
½ packet of Smash regular powder
1 tablespoon regular Bisto
½ cup of boiling water
Cooking Instructions
Set oven to 180°C, use standard loaf pan, olive oil sprayed.
Add the beans and chickpeas to a blender and pulse till a rough texture, add to mixing bowl. Blend nuts till course, add to mixing bowl. Mix all the ingredients together, add hot water, mix and add to loaf pan. Bake for 50 minutes.
This is really moist and tasty; most vegetable loafs can be so dry.
The total amount of oil used the entire meal was less than a tablespoon.
Serves
4
people
Recipe supplied by

Pieter Kotzé

,

Langebaan

, South Africa

Show Comments / Reviews
No Comments / Reviews