Vegan Recipes
Red Lentil Coconut Dahl
A comforting, creamy and anti-inflamatory dish packed full of nutrients like beta-carotene and vitamin C. Made with red lentils, coconut and aromatic spices, this meal comes together in under 30 minutes. Perfect to serve with rice or flatbread.
Ingredients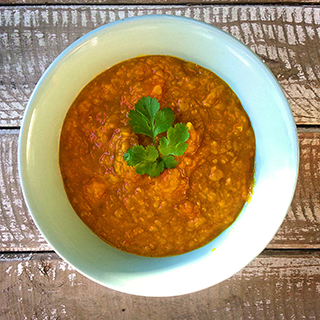 2 cups steamed butternut squash or pumpkin, cubed
1 medium red sweet potato, cubed
2 large carrots, chopped
1 medium onion, chopped
2 cloves of garlic, minced
1 inch fresh ginger, minced
1 cup dry red lentils, rinsed
1 can light coconut milk
1 tsp turmeric
1 Tbsp garam masala
1 tsp aniseed
1 vegetable stock cube
1 tsp coconut oil
Fresh coriander, steamed spinach and lime juice to serve
Cooking Instructions
Fry the onions, garlic, ginger and spices in coconut oil in a large pot until fragrant.
Add the rinsed lentils and vegetables to the pot and fry together with the onions and spices for a few minutes.
Cover with water and add a stock cube and coconut milk. Bring to a boil, then simmer until the lentils and vegetables have softened and the dahl has thickned, about 15-20 minutes.
Add lime juice and fresh coriander to taste just before serving.
You might like to serve this with steamed spinach and Basmati rice or homemade naan.
Serves
2
people
Recipe supplied by

Gabby Correia

,

Cape Town

, South Africa

Show Comments / Reviews
No Comments / Reviews