Vegan Recipes
Roasted Garlic Hummus
You will enjoy making this dipping dish. Not a piece of flesh to touch, opening the fridge and looking into dairy, eggs, bacon and all those items that always leave one sad. If you feel like oven roasted vegetables and crave roast garlic to make hummus, this is the best you will ever make, and this comes from a chef that never likes hummus.
Ingredients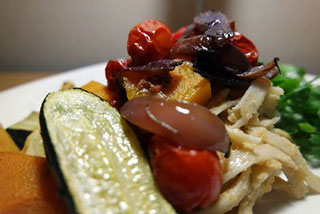 1 can chickpeas, drained and rinsed
1 whole garlic, cut the top off and sprinkle with sea salt and olive oil (or Flaxseed oil). Roast for 30 minutes @ 180°C.
Juice of 1 lemon
Some sea salt and freshly ground pepper
2 Tbsp flaxseed oil (or olive oil)
1 heaped Tbsp of peanut butter
Pinch of Cayan pepper
Cooking Instructions
Pop the garlic out as it comes out of the oven, add everything together and blend till smooth. It should be nice and thick and spreadable. You can always add more oil to it for smoother texture.
This is really awesome as a standard hummus, but you might love it so much that you want to incorporate some of it with dinner. So you could have it with roast vegetables, such as red onion, butternut, capsicums, courgettes, large cherry tomatoes and red pepper. Sprinkle sea salt and fresh rosemary on it and use Antonio's Olive Oil Spray. By spraying oil, you use less. That came out of the oven with the garlic.
You can mix a spoon or two of the hummmus with 1 tablespoon of flaxseed oil with home-made pasta. You need that extra oil here because it tends to be dry with the pasta. This was an awesome experience, better than ...
Normally serving hummus with pasta is not recommended, but the roasted garlic and creamy texture just make it happen.
Serves
1
people
Recipe supplied by

Pieter Kotzé

,

Langebaan

, South Africa

Show Comments / Reviews
No Comments / Reviews