Vegan Recipes
Sag Aloo
Sag aloo (or saag aloo) is a potato and spinach curry. It is a genuine South Asian dish and can be made with mustard, basella or amaranth leaves instead of spinach if preferred. Sag aloo is usually served warm with naan bread, chapati or roti.
Ingredients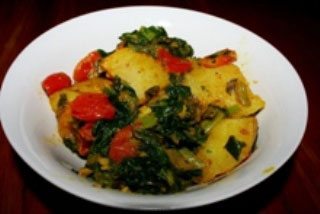 4 large boiled and quartered potatoes
3 cups fresh baby spinach leaves
2 Tbsp oil
1 large roughly chopped onion
1 roughly chopped jalapeño pepper
4-6 cloves garlic
1 inch ginger
1 tsp ground coriander
½ tsp ground cumin
½ tsp chilli powder or red pepper flakes
½ tsp turmeric powder
3 large tomatoes
1 tsp brown sugar
Salt to taste
Coriander for garnish
Cooking Instructions
Put the garlic and ginger in a mini food processor with a few teaspoons of oil, and grind to a paste.
In a medium-sized sauce pan over medium heat, add the oil. When the oil is hot, add the onion and sauté until fragrant. Reduce the heat to low, and continue cooking for 2-3 minutes more.
Add the jalapeño, garlic and ginger paste, and cook and stir for one more minute.
Then add the coriander, cumin, chilli powder and turmeric powder and stir and cook for another one minute.
Add the tomatoes and the sugar and increase the heat to medium. Cook for a further 5 minutes.
Add the potatoes, spinach and salt, and cook for 2-3 minutes until the whole mixture is well combined.
Garnish with coriander.
Serve with steam rice or naan, chapati or roti.
Serves
2
people
Recipe supplied by

Marjorie Marino

,

Bulacan

, Philippines

Show Comments / Reviews
No Comments / Reviews